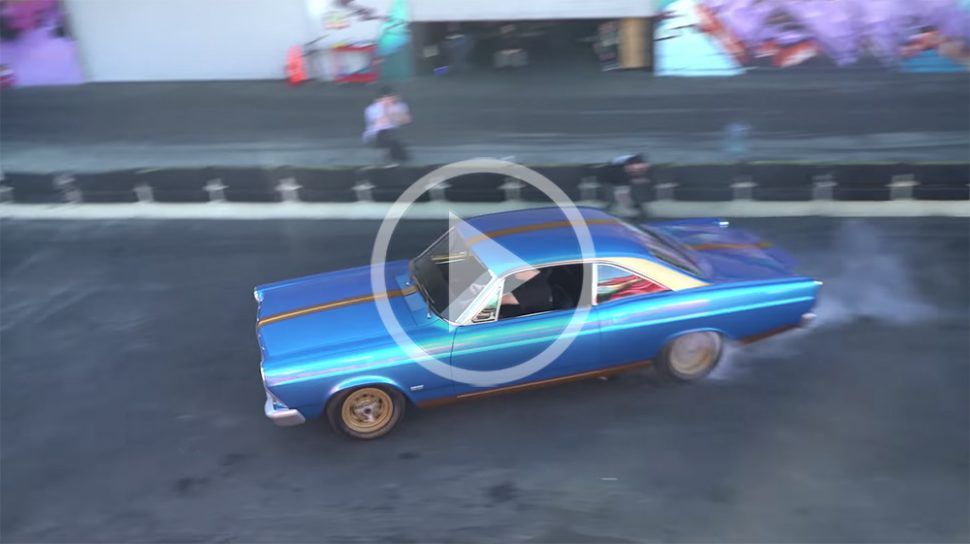 WATCH THIS: Strope, Ford, burnout, repeat.
Who doesn't love a '67 Ford Fairlane, amiright?
But the thing about a Fairlane is that it's always much cooler when it's turned into a hater-crushing, brainpan-rattling monster of a restomod. It's almost as if Ford said, "We know we need a sensible passenger car for 1967, but let's set this thing up for Steve Strope to turn one into a killer little blue coupe 50 years from now." No, now that we think about it, we're almost positive that's what Ford said in the Fall of '66.
So, here's one of our favorite, slightly-opinionated, ultra-talented customizers, Steve Strope of Pure Vision in Simi Valley, CA, ripping up the hallowed ground behind the Hoonigan headquarters in the most righteous, NASCAR-inspired '67 Fairlane we've ever seen. Aluminum, Ed Pink-prepped 427 c.i.d. SOHC motor? YES. PLEASE. This thing is nothing if not the sum of all its millions of little details that the mere mortal wouldn't even notice, but at the end of the day – and the end of this video – it's really all about the sound this Ford will make. And make it, it does.
Can you dig this one-of-a-kind '67 Strope-lane? We really need to start that streetable stock-car Torino project that's been bouncing around in our head…