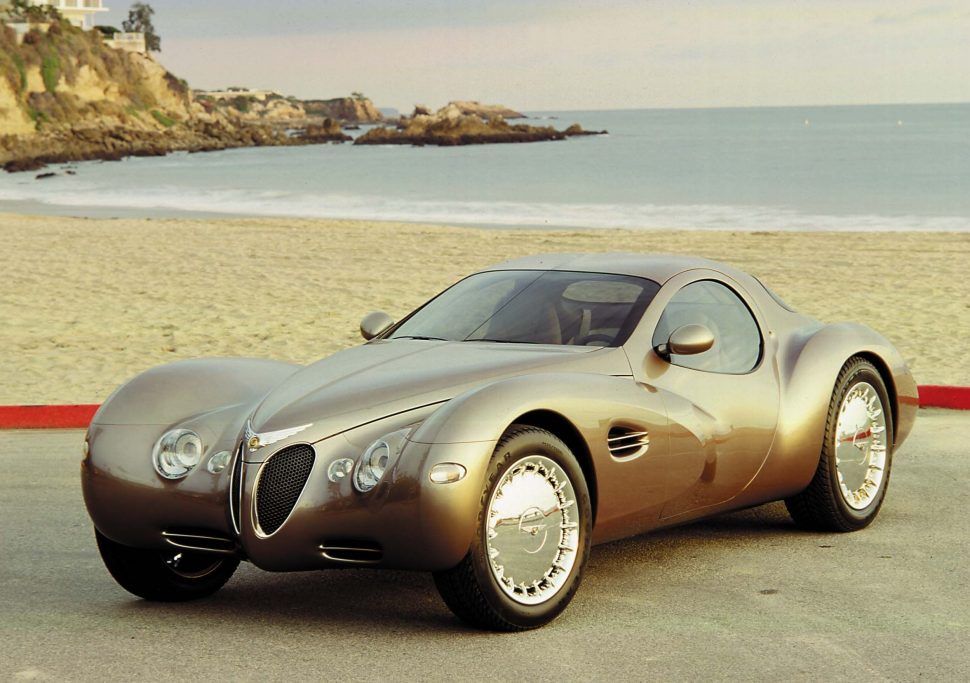 In search of a flagship, Chrysler's Tom Gale kept re-imagining classic-style luxury throughout the Nineties
Dodge had the Viper. Plymouth the Prowler. It only made sense that Chrysler would gain its own retro-influenced concept-turned-production flagship in the Nineties under Tom Gale's design leadership. That it didn't is of course a shame, but it also meant that Chrysler spent the better part of a decade introducing some of the most compelling concepts of that decade in search of its own renaissance.
Gale, who was promoted to the vice-presidency of design at Chrysler in 1985, joined Chrysler in 1967 and had a hand in the Eighties turnaround of the company after working on the design of the K-car project. As vice-president of design, however, he envisioned a company that would thrive rather than just survive, with distinct personalities for each Chrysler division beyond the minor trim differences that separated Chryslers from Dodges from Plymouths throughout the Eighties.
Though the Lamborghini-based 1987 Portofino concept ended up influencing Chrysler product design for years afterward–particularly in the cab-forward LH-series sedans–the aforementioned 1989 Dodge Viper concept had far more impact on Gale's intended direction for the company. Not only did it show the world that Chrysler could think big and that it wouldn't let the K-car define it moving forward, it also demonstrated how the company could take risks by turning its concepts into standard-bearing production cars.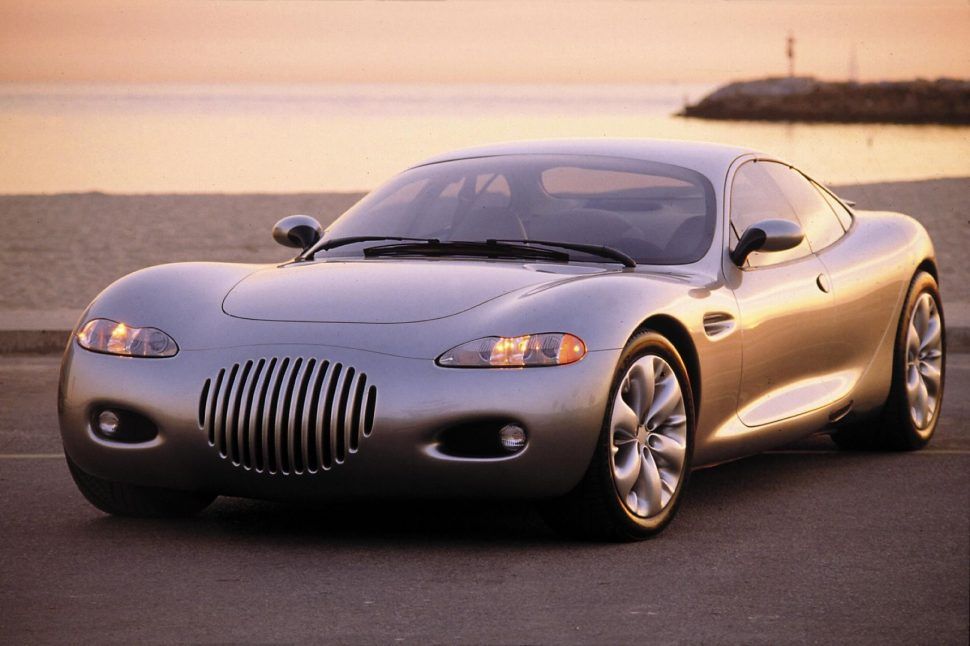 Gale's first attempt to apply that same magic to the Chrysler brand came two years later with the 1991 300 concept. Based on the Viper, it used the sports car's space frame–stretched nearly 30 inches to make it a four door–and a 385 hp V-10 taken from an early Viper mule and paired with a four-speed automatic transmission, according to Allpar. Though short on chrome and badging, the 300 resurrected a storied nameplate that had last been used in 1979, brought back touring-style suicide rear doors, and employed aggressively swoopy design.
Unlike most concept cars, the 300 featured a number of production-ready elements. Its lighting was reportedly DOT-approved, and a great deal of engineering went into the sedan's body structure to not only make it strong enough to support the suicide doors but also capable of passing crash standards.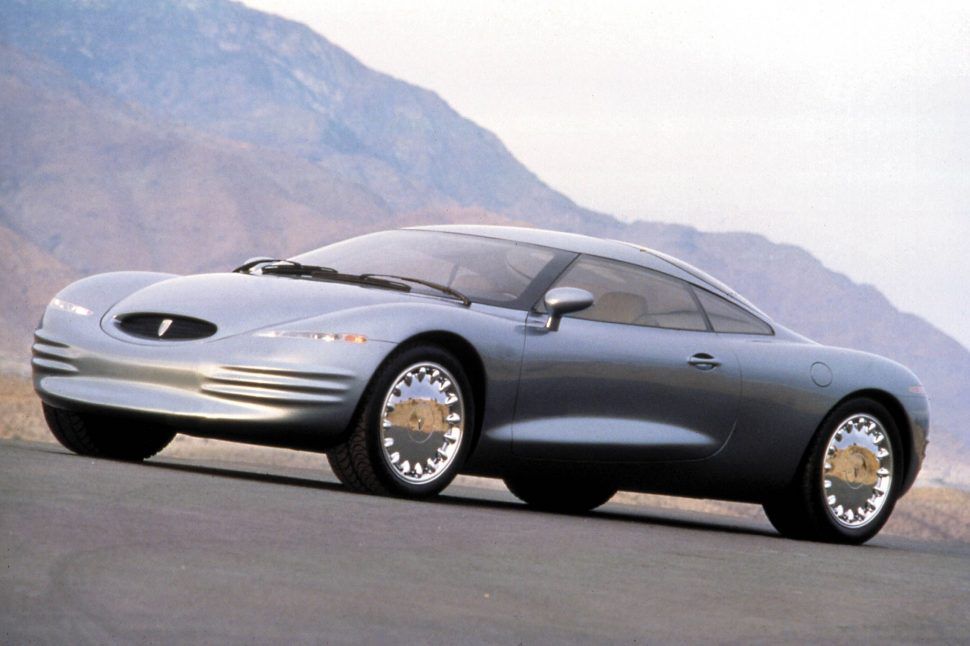 Similar to the 300, the 1993 Thunderbolt resurrected another legendary Chrysler nameplate, one that had the potential to serve as a halo car for the brand. It ran and drive, thanks to a 270 hp four-liter eight-cylinder engine (possibly a similar engine to the one that powered the Atlantic, below), but based on the limited additional information (like, where'd they stick that engine?) and the non-production-ready elements (lighting, double-bubble back window), it likely wasn't given the same consideration for production as the 300.
It did, however, appear in the first episode of the Viper TV show, a show in which the 300 concept above and multiple other Chrysler concept vehicles made cameos.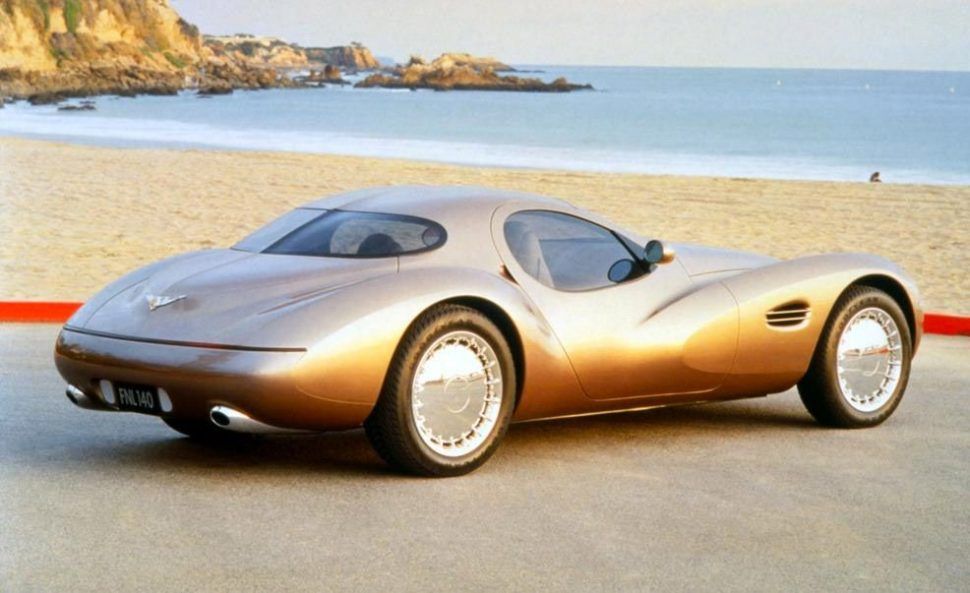 Another two years and the 1995 Chrysler Atlantic bowed to considerable media attention and praise. Ostensibly inspired by a trip that Gale and Bob Lutz took to the Pebble Beach Concours d'Elegance, the Bob Hubbach-designed coupe intentionally evoked Bugattis, Delahayes, Talbot-Lagos, and other sultry French cars of the interwar period. According to Pete Hagenbuch's account at Allpar:
The legend says that Lutz sketched his ideas on a napkin, which he gave to Gale. Gale gave his design staff the assignment — but without the sketches, explaining that he didn't want to give his designers any preconceptions which would stifle their creativity. They were told to use ideas and features of the curvaceous French coupes of the thirties to come up with a knock-out design that would mix the best of the old with the newest of the new.
As Chrysler described the Atlantic:
Inside and out, Chrysler Atlantic concept vehicle is a pure-bred coupe borne of romantic fancy – a longing for the days when cars were conceived not in a wind tunnel, but on an artist's canvas. Atlantic is far more than a car. It is a fond tribute to a time when expressive coupes were created one at a time by a gifted craftsmen. It is a living, breathing example of automotive design as art, expressed in the technological expertise of Chrysler.
For all of its classic inspiration, the Atlantic was thoroughly modern under the skin. A four-liter straight-eight built up from two Dodge Neon engine blocks put out 325 horsepower through an AutoStick transmission, it rode on massive 21-inch and 22-inch wheels, employed ABS brakes, and used neon lighting throughout. We see mention of Chrysler considering a possible run of 100 cars, but that could be mere rumor.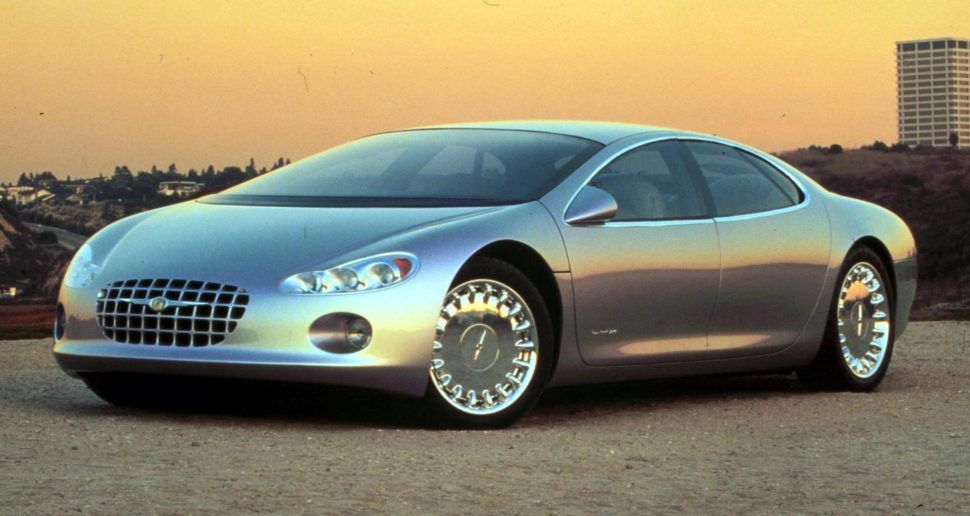 While a more futuristic take on the Chrysler flagship car than the other cars in this series, the 1996 Chrysler LHX did reintroduce the egg crate grill to Chrysler's design language and, if one looks at it long enough, one can see the Atlantic's egg-shaped side glass in the LHX, just elongated to fit a four-door sedan on a 125-inch wheelbase. Gale still described it as a heritage design, though its overall look (if not its size) went on to influence the 1999 Chrysler LHS. A 250 hp single-overhead-camshaft 3.5-liter powered the LHX.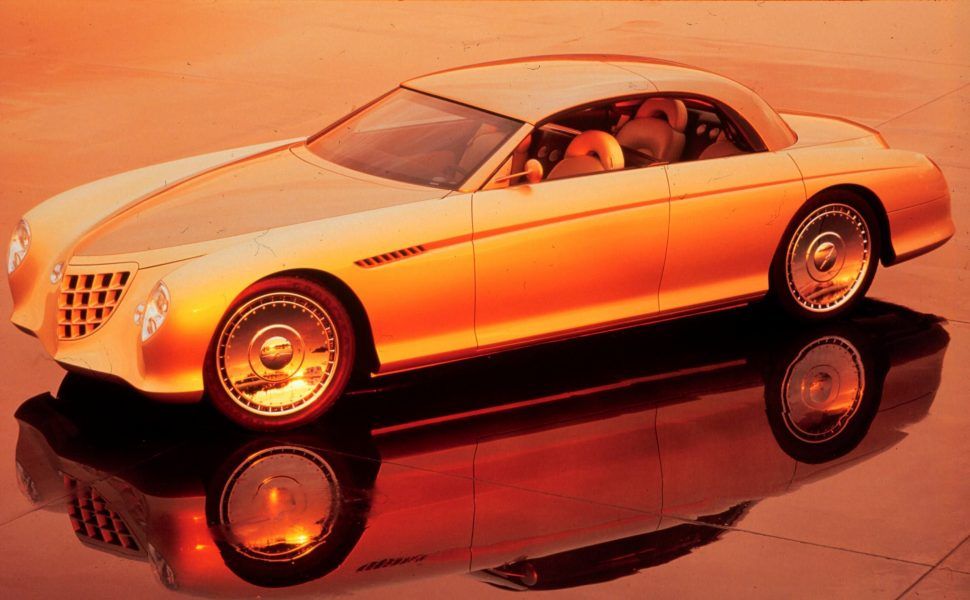 In 1997, Chrysler showed off the Phaeton which, according to Chrysler, "capture(d) classic images from the… Chrysler Atlantic and translate(d) them into a convertible format." While there may be some Atlantic DNA here, far more inspiration came from its namesake, the 1941 Newport Phaeton, and from the subsequent Imperial parade phaetons.
As with its predecessors, the Phaeton featured dual cowls and luxury appointments throughout. Unlike the two, however, the Phaeton had an ASC-developed power-actuated retractable hardtop that fit under its boattail-ish decklid. It also had a stout chassis – Allpar's writers questioned whether it may have come from a truck – with Viper-based suspension, 22-inch wheels, and a 60-degree 48-valve 5.4-liter 425 hp V-12 aluminum engine (which, speculatively, may have been built up from two 2.7-liter V-6 engines as used in the LH-series cars).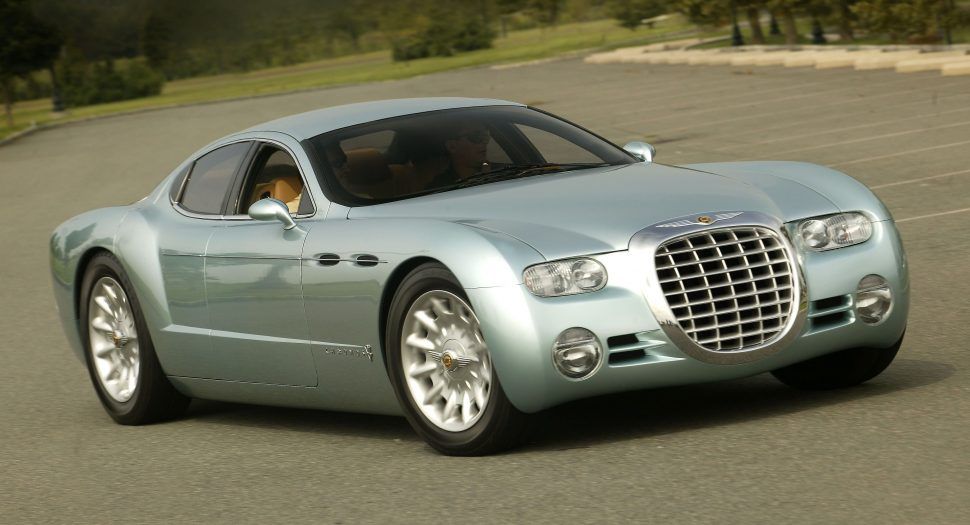 As finished as the Phaeton appeared to be, the market for such a car is limited, to say the least, but a year later, Gale's crew made one last bid for a luxury flagship with the 1998 Chronos, a car that leaned heavily on the Ghia-built Chrysler show cars of the Fifties for its distinct classic look.
Specifically, Chrysler design studio chief Jack Crain cited the 1953 Chrysler D'Elegance, and it's easy to see that car's influence in the haunches and the character line that extends forward from them. There's also quite a bit of 1955 Chrysler Falcon in the crisp leading edges of the front fenders, the vaguely heart-shaped grille, and the horizontal headlamps.
Under the skin, Allpar noted a largely Viper-derived suspension and a V-10, but not a Viper V-10. Rather, the Chronos used a 350 hp six-liter single-overhead-camshaft V-10 constructed from components of three different 4.7-liter V-8s.
The Chronos displayed all the trim and fit and finish of a car eyeballed for production. Production would have smoothed out some of the concept car details, but (unlike, say, the Phaeton's retractable hardtop) little on the Chronos wasn't doable on a production basis, perhaps with a little more interior room, as Allpar noted.
Like the CCV, the Chronos stood little chance of continuing on to production as-is after the DaimlerChrysler merger. However, it's not hard to see where the Chrysler 300C got its face from a few years later. Nor is it hard to argue that Gale laid the groundwork for striking concept vehicles like the Dodge Tomahawk and the Chrysler ME4-12 that came after his time at Chrysler.
Gale retired a couple years after the Chronos came out and, while none of his flagship designs went on to production and to define the Chrysler brand during his time there, plenty of observers have credited him with jumpstarting an era of exciting, production-ready concepts. As Motor Trend noted, Gale "is the man who helped Motown find its mojo" and "changed the face of the U.S. auto industry." He's since been inducted into the Automotive Hall of Fame, in part for his highly visible concept vehicles.