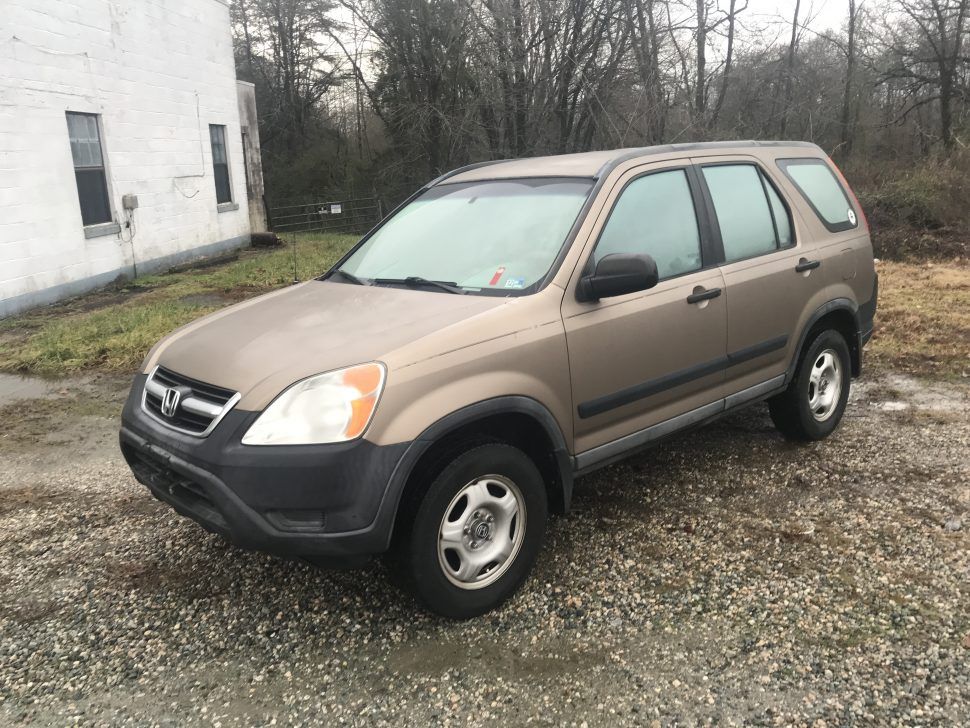 Soccer ball not included: Fanfare for a common car
Buying a used 2004 Honda CR-V (or "Compact Recreational Vehicle") meant instant grief from friends who hate SUVs.
Steve passed conclusive judgement. He was a biker whose only four-wheeled dream was a Checker Marathon, in the same black as every motorcycle he owned. He saw the Honda, then offered a typically laconic response.
"I'll buy you a soccer ball."
Out of spite, I got the sort of vanity plate my friends revile: CR BEE. We are beekeepers.
Sadly, Steve's gone, as is a Honda that became known as "The Bee." Many of our other friends now drive compact SUVs, too. Like the Mongol Horde, these vehicles drove away all before them, killing off the station wagon while putting sedans and hatchbacks on the endangered-species list in the United States. If you wonder why, read on.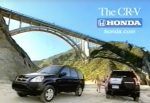 No Anniversary Editions
You can easily purchase a 50th Anniversary Mustang or Corvette. My '99 Miata "Special Edition" appeared alongside an apparently even-more-special 10th Anniversary Edition. Not so much for the ubiquitous compact SUV. In theory, anniversary models appeared but, tellingly, they celebrated a company's milestone, not a vehicle's. At the quarter-century marks for two pioneers, Toyota's RAV4 (1994) and Honda's CR-V (1995), no fanfares sounded.
Until now.
Many Hemmings commenters love to hate crossovers and their progeny. I understand why: they are just appliances. So were the large and midsize station wagons they replaced, and that now are collectible. Maybe we love wagons out of hazy memories of long summer vacations when driving less-crowded roads was, objectively, more fun. CR-Vs, whose natural habitat seems to be a Starbucks drive-through, are so boring that even today, I cannot always recall where to put the hyphen in its name. From nowhere in the mid-'90s, unless you count Bronco IIs and similar ancestors, compact SUVs came on and never stopped coming; Honda sold a little less than 150,000 for the 2004 model year, with sales approaching 400,000 for the 2019 model.
To get an idea of why the formula has worked so well, look over some vintage commercials. One from the UK is unsettling, about going shopping while poor people abroad watch your boring drive on a movie screen. The message? These are not cars for the "adventurous." TV spots here in the States showed CR-Vs at the beach, where owners played volleyball instead of bungee-jumping. An Australian promo touted the roles of tradition and quality for long trips in the Outback.
Take that, Crocodile Dundee in your stream-crossing Subaru!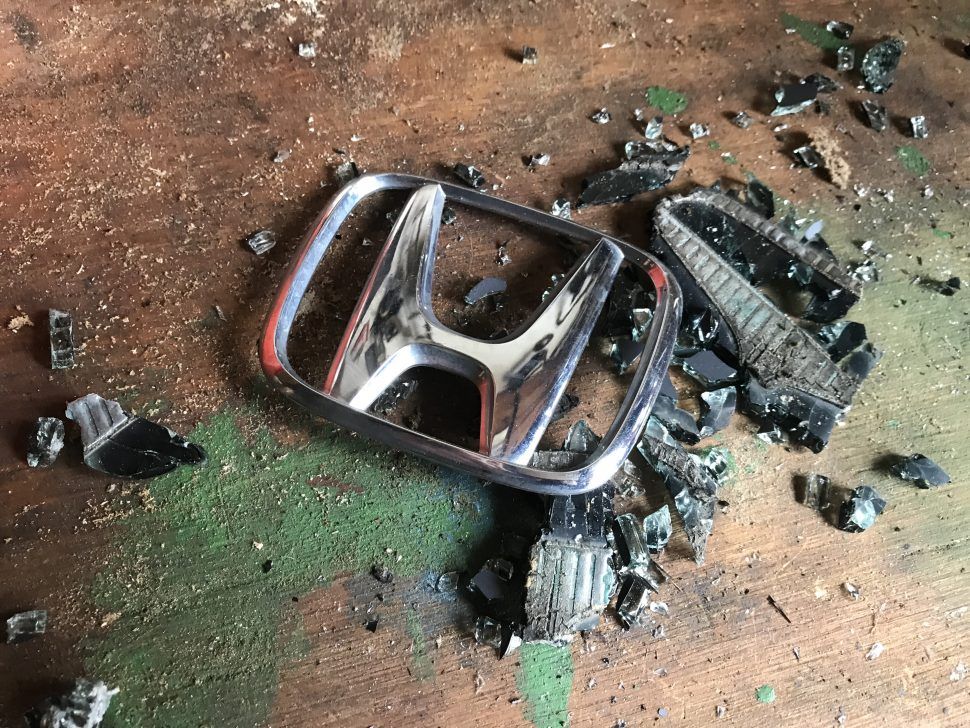 Almost 14 Years of Amiable Boredom
I wish to make a bold claim. The little Honda was the best vehicle I have owned. Period. I had it nearly as long as my first Buick Apollo.
Until my wife drove one, she was dubious. The Element, my funky-chunky pick in 2006, with an avid following today, did not handle as well as its more conventional sibling. So "a Cute Ute" came home with us, as CR-Vs and RAV4s did by the millions. It was no Jeep Wrangler or Land Rover Defender, clearly. With enough ground clearance to get in trouble but not the skid plates or suspension to get out again, we always treaded carefully. Farm roads and lightly gullied fields marked its outer limits.
For our "adventures in reality," as another Honda commercial proclaimed, we got bronze, the blandest color imaginable. In the dead of winter, under a crossover-gray sky, we played good cop/bad cop to talk a salesman down, threatening him with a dark green CR-V on the lot of his arch-rival, until we snagged our pick. Try this line sometime: "But hon-eeee, the other one has a SUN ROOF!"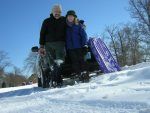 Somehow, as they do after age 40, years tumbled by while the odometer ticked off the miles to the Adirondacks, the Blue Ridge Mountains, the James River. The car (no, I don't call SUVs of any size a "truck") went to work, camping, sledding, fishing trips, long-term airport parking, the feed store. It ferried chainsaws and building supplies, then went to get groceries. We flogged it in all types of weather until it had nearly 162,000 miles on the odometer. Except when I needed a real truck, such as during hunting season, the Honda could do it all while using half the gas of my Silverado. Unlike that beast, it was a fine urban vehicle, easy to park and turn around in an intersection. Our car's four-cylinder VTEC motor enabled easy passing and freeway merges. In its youth it averaged 25 mpg, dropping to 24 after a decade.
When we moved from the city to a farm in 2012, the workouts increased. It swallowed giant Anatolian Shepherd livestock guardian dogs, chainsaws, eight-foot boards with the back seats down. It carried (though not all at once) two bicycles, large extension ladders, and an 18-foot canoe.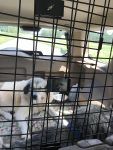 The "on demand" four-wheel drive actually got a lot of use, and it never failed us, even over snowy farm fields. It once toted a beehive holding a captured swarm. I won't try that again.
My mechanic father-in-law, Big Ed, hated all imported cars. Yet even he, who delighted in his Chevrolet minivan and wagon, was surprised. He inspected the Honda closely, inside and out, opening hidden storage compartments and feeling the seats. Then he spoke in judgement, as taciturn a response as Steve's had been.
"Nice little wagon."
When we recall the demise of the small station wagon, just look at a compact SUV. Many do not even have four-wheel drive. For families with kids, the four doors mean access with ease. Cargo space was ample until the fateful moment when they lost their external spare tires and began to be pinched at the back, poorly aping sports sedans. Visibility suffered, with thick C-pillars and sloping roofs. Our car, in contrast, had an airy, boxy greenhouse.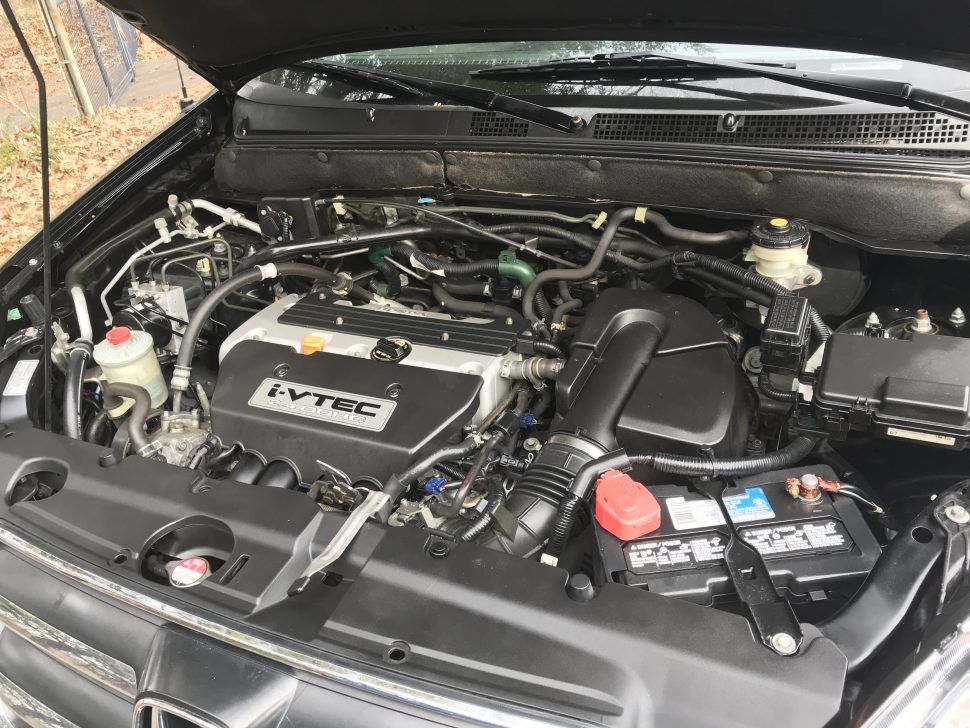 The Last Era of Easy Wrenching?
DIY work was not hard, not something true of vehicles made half a decade later. Just before the end, I had done the 160K service myself, including the first new spark plugs and rear-differential fluid since the car was built, and I was planning to repaint the black-plastic trim and install new pinstripes. Most service items were easy to access, spare parts plentiful and cheap. Other than brakes, a window motor, and a solenoid, it never needed work I did not do myself. While my friends' Subarus of that era blew head gaskets, our Honda never even burned oil.
Downsides are few: CR-Vs can have a lot of road noise (but deer looked up, hearing us coming). Front rotors like to warp. The seat-belt retractors often get "lazy;" we learned to drape the belts over the seats. Takata airbags may need replacing, something a dealership will do on its dime.
Considering the awful '70s and '80s General Motors cars I owned until the time I bought my Honda, it was life-changing. No engine fires. No electrical gremlins. No bucket seatbacks that break when driving. No transmission failures. Rust proved no issue, as it had been on Hondas locally from the '80s and '90s.
Several RAV4s and CR-Vs in the hands of once-scornful friends and family have rolled over 300K miles: as reliable as a gas stove or dishwasher you only notice it when it breaks.
Or is broken.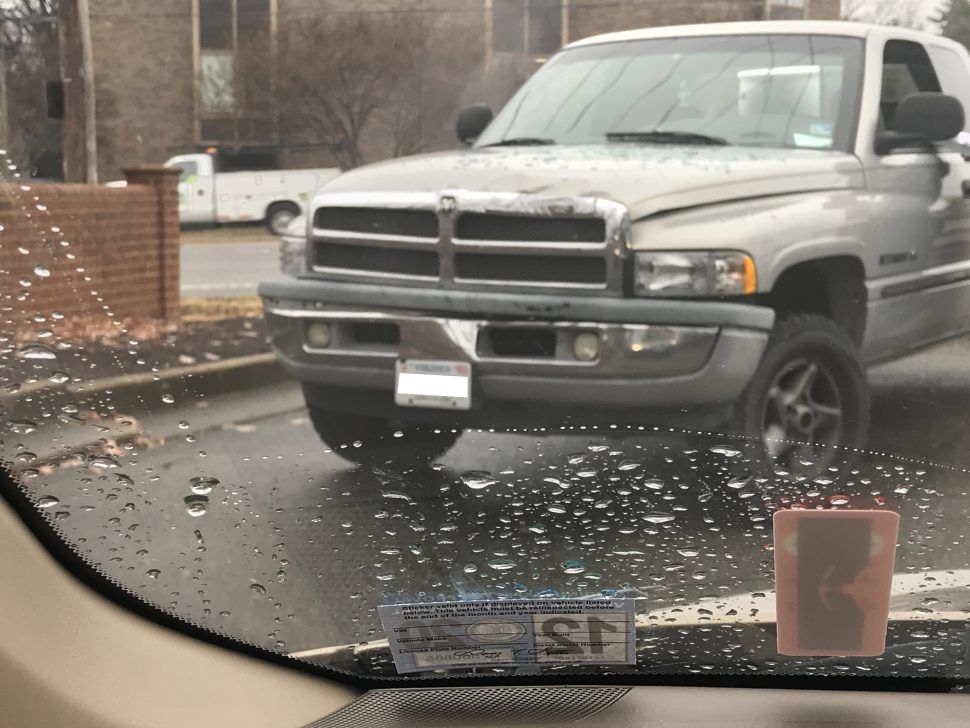 Friday The 13th
At a stoplight on Friday the 13th, 2019, a Dodge Ram lived up to its name, plowing into me from behind. The young driver, not texting, followed too closely on wet pavement. He got a ticket. I got glass and the Honda emblem that flew into the cargo area. I was unhurt, with the Honda's external spare tire taking the brunt of an impact of at least 10, and maybe 15 mph. The Ram looked awful.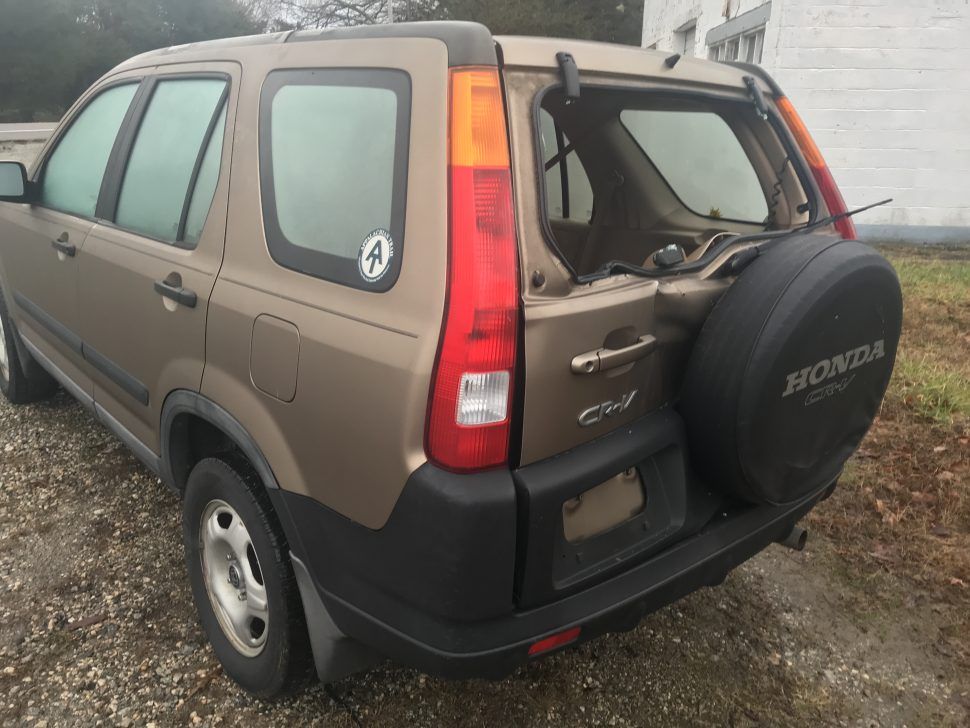 The last time I drove my bronze blob was home, the back end so smashed that the door would not open. Though it still ran as well as when we bought it, largely invisible damage to the unibody meant that a new rear door might never close, or seal, properly. When I got the insurance company's news, I was crushed harder than my CR-V.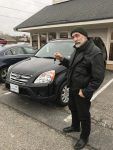 Back in Black
After the wreck, I briefly shopped for a newer Nipponese replacement: a Forester, a RAV4, a base-model Honda HR-V. The last is about as close to my old car as you'll find new because CR-Vs have grown in size and complexity. As our buddy Pat (first Gen CR-V for about 20 years) put it, Honda's little ute became "less manly, more vanly."
Given the likelihood of making a car payment, I'd been seduced by Toyota's hybrids, despite all their gadgetry and Cylon-helmet front ends. You do really want a 100K warranty to cover the RAV4 hybrid's three radars, battery minder, and oodles of electronics.
I put a deposit on a 2019, in blend-in silver, of course! Two days later, despite the promise of 39 mpg on average, I called the salesman and said "I changed my mind." I kept looking.
Then, at a dealership selling consigned cars, a black 2006 CR-V showed up with heated leather seats, alloy wheels, and a sunroof. It had side-curtain airbags, a feature I'd wanted since the collision. The salesman said "We haven't detailed it yet." It looked suspiciously perfect, so I combed through it with my anal-retentive, 20-point checklist and a work light. My Friday the 13th jinx got undone. I saw not only evidence of a fastidious owner; from the Carfax report I realized that I knew the mechanic, the same Honda/Acura shop that worked on my CR-V.
I drove over to ask. "Oh, the black one!" It had been thoroughly checked three days and 100 miles before. There were no hidden issues. For reasons unknown, the owner decided to buy a new ride right after paying for routine wear items: brake pads, tire rotation, oil change. I still bought a three-year warranty on the drivetrain, hydraulics, and electrical system, just in case the air-conditioning compressor fails; it's a high-cost problem area for second-gen CR-Vs (the AC in The Bee had been getting dodgy).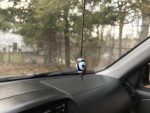 After our handshake, the salesman claimed that older CR-Vs and RAV4s in decent shape sell within two or three days. That still does not mean they will be future collectibles, a status baked into Jeep Cherokees and any old pickup truck. In 20 years, the CR-V's kin from the late '90s to mid-2000s will still be used as 300K daily drivers or winter beaters. Unlike my Buick Apollo, it won't even be rare.
As soon as I got the black Honda home, I installed the cargo-area liner and cover, all-season floor mats, plus a Turkish nazarlik charm from The Bee. No evil eye, and no vanity plate this time: the old ones hang on the wall. I'm going to tuck a photo of Steve in the glove box.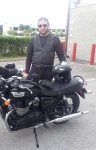 In 2013, he died on his black Triumph Bonneville, heading to work as the senior reptile keeper at The Jacksonville Zoo. I drove The Bee to Steve's Virginia memorial service, a final practical joke he'd have loved. I wish he'd commuted in a boring CR-V like mine. He'd be around to grow old and bald with me, maybe to restore a black Checker Marathon together.
If I get to see Steve in the afterlife, I plan to drive up in an all-black CR-V and bean him with a soccer ball.
Joe Essid teaches writing at the University of Richmond. He's a part-time farmer, too, and he writes about rural life at http://tractorpunk.blogspot.com.