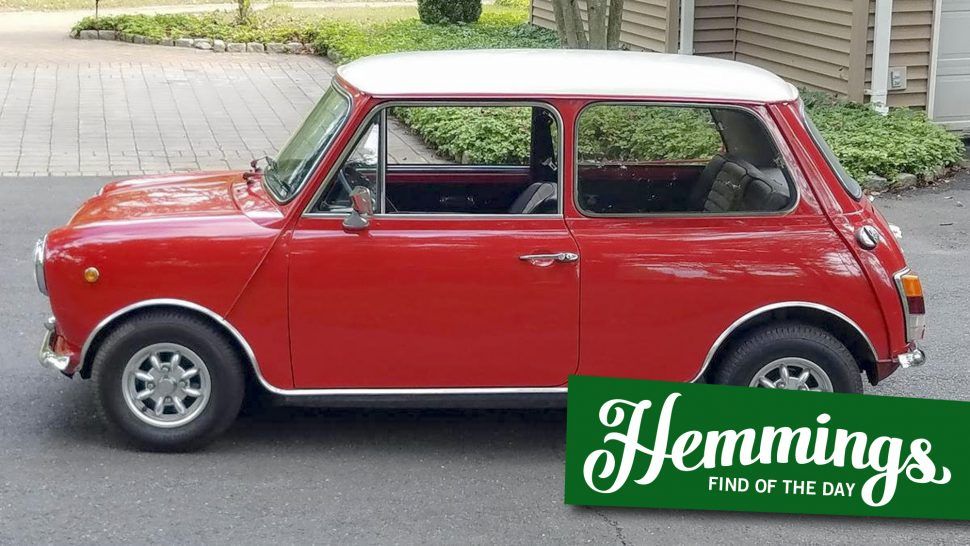 Hemmings Find of the Day: 1974 Innocenti Mini Cooper 1300
It's the licensed Italian-built Mini Cooper, a 1974 Innocenti Mini Cooper 1300, for sale on Hemmings.com. From the seller's description:
Italian-built 1974 Austin Innocenti Mini Cooper 1300 Export sold new and first registered in France. Built as left-hand-drive, with an 11-stud head, Mini Cooper 1275 engine, twin SU carburetors, and 7.5″ front disc brakes. Extensive mechanical work done on the car by Automobiles BMC in France including suspension, brakes, exhaust, wheels and tires. In 2017 the car was imported and a new clutch, alternator, fuel pump, electronic ignition, carb rebuild, crank and driveshaft seals were installed. 20,000km shown, expect it's 120,000km, but total mileage not known for certain.
The car was recently tuned and received a re-cored radiator to retain the original Italian IPRA tank top. The transmission is a 4-speed, full-synchro, rod-change gearbox, original to the car. Minilite-style 10×4.5" wheels with 2015 date code Yokohama A008s.
Mechanically, the car runs great, stays cool, shifts stops and handles well. Current compression readings are: 180; 175; 170; and 185. The undercarriage is rust free and the body is straight and solid, with the exception of a small area with rust dimpling in the left door and left cowl. Originally, the car was finished in medium blue ("Bluette") with a white ("Bianco") top. At some point in its life in France, a color change to red was done. The paint shows well, is presentable, but has numerous flaws, visible in the pictures.
Most unique Innocenti features are intact. The differences from UK Minis are numerous but include: full instrumentation with a unique Innocenti Cooper dashboard, steering wheel, vent wing windows, stainless side window trim, unique headlight bezels, trim and badging, a revised grille, rear defroster, reclining seats, etc. A pair of rare original Innocenti headlight buckets and trim rings are included as well as a replacement Bonaldi brake booster (not currently installed).
The original seats and replacement carpets are serviceable, but tired. The top of the rear seat has some cracking and weathering. The headliner is original.
Price
$21,500
Location
Skillman, New Jersey
Availability
Find more Austins for sale on Hemmings.com.