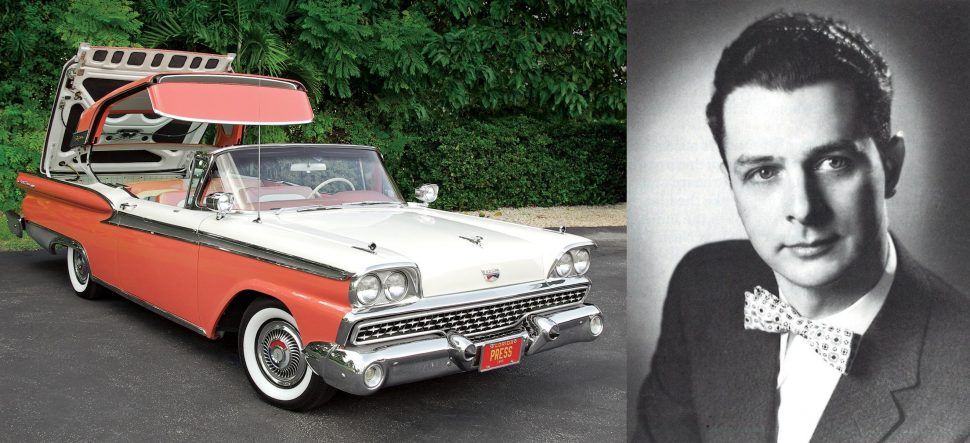 Ford Skyliner retractable hardtop engineer Ben J. Smith dies at 97
Though best known for designing the complicated but functional retractable hardtop system that went into the Ford Skyliner, engineer Ben J. Smith, who died late last month at the age of 97, made a career out of innovation and taking chances while at Ford and other automakers.
"He's the last of those guys who really made an impact on the auto industry," Smith's son, David, said. "Very few guys did what he did, and I don't know if you can really find people like that again."
Ben Smith first went to work for Ford in 1940 at the age of 18 as an aircraft parts inspector, wood pattern maker, and tool and die apprentice, according to his book "Skyliner: The Birth of the Retractable." Though he stayed out of World War II on deferment while he attended what later became Henry Ford Community College, an acquaintance reported him to the draft board "so I foolishly said I want to go in" and enlisted in the Navy in 1944, he said in an interview with Hemmings Classic Car in 2005.
That stint lasted 17 months, after which he returned to Ford to work on the company's Light Car program as a chassis draftsman. Assigned the task of designing the clutch and brake systems, he decided to hang them from the firewall rather than to stick them up through the floor. "I didn't know how to do it through the floor," he said. And while his supervisors reportedly gave him heat for the design, "I just said, 'Hey, (through the floor) is the wrong way to go,' and we just did it. That was in a different time and a different era."
In 1949, Smith left Ford for Nash, where he worked on the Rambler, but he claimed the people at Nash didn't like the people who came over from the Big Three, "so they put me in my place for a couple of months" by heavily criticizing his detailing and printing work. Not long after, he departed Nash for the Fisher Body division of General Motors, where he switched from chassis design to body design and claims to have originated the wraparound windshield as part of his work on hardtops and convertible tops.
Due in part to that latter area of work, Ford's Harley Copp and John R. Hollowell, the latter responsible for the retractable development program, recruited Smith away from GM to work on Gil Spear's idea for a retractable hardtop for the upcoming Continental Mark II project. Hollowell, a fellow Navy veteran (and Copp's brother-in-law), knew Smith from the Light Car program, but because of the secrecy around the program, couldn't tell Smith what he'd be doing while trying to recruit him. As Jim and Cheryl Farrell wrote in "Ford Design Department Concept and Show Cars, 1932-1961:"
It took four for five meetings and a full disclosure before Smith, finally intrigued by the idea of being one of the engineers selected to actually build a retractable vehicle for production, agreed to take a cut in pay to come to work on the project. When he left GM, Smith told his boss he was leaving for a higher-paying job at Ford. Nobody would have been the wiser, except that Smith's boss at GM sent a nasty letter to Bill Ford claiming that recruiting Smith away from GM by offering him more money than he was worth was an unethical practice. When Smith explained that he couldn't very well have told his boss at GM that he was leaving for a job at Ford that paid less money, Bill Ford got a good chuckle out of it, and the complaint was quickly round filed.
After working out the linkages and the use of electric motors to power the retractable hardtop, Smith and Hollowell deployed part of their $2.19 million budget to order two mechanical prototypes from Hess and Eisenhardt, according to the Farrells. Both used frames custom built to the expected Continental Mark II dimensions and various parts cobbled together from 1953 Lincoln parts. One of the two, which ultimately proved unnecessary, went on to become the Lincoln Futura show car (and, later, the George Barris-built Batmobile) while the other went on to become the XC-1500-R retractable hardtop prototype.
While the XC-1500-R didn't lead to a production Continental Mark II retractable hardtop (and, as Smith recounted, the operational prototype was ordered scrapped a couple years later), Smith and Hollowell did patent the design (US2860004A) and Ford brass decided to put the feature – lightly modified – into production on the 1957 Ford Skyliner. Ford brass also decided to keep Smith around after the retractable hardtop project wound up by promoting him to advanced engineer at Lincoln in 1956. During that time, he worked on the Continental Mark III before, in 1959, taking a position as chief engineer for Ford Motor Argentina, where he adapted the Falcon for the Argentine market.
Over the next several years, Smith progressed through a number of positions with Ford, from executive engineer for the company's international products to advanced engineer for Ford's styling department in Dearborn to product director of Ford of Brazil. In those positions, according to Smith, he introduced curved side glass to Ford products and proved instrumental in Ford's purchase of Willys of Brazil.
During that time, he also attempted to bring back the retractable hardtop on the Ford Mustang. Rather than a complicated and heavy mechanism, he designed it for manual operation: "It was so simple, the maximum lifting weight was 10 pounds," he said. "I had a 5-foot, two-inch secretary and she had no problem putting it up and down in 10 seconds. It was all ready to go."
According to Smith, however, Don Petersen in product planning wanted the top motorized, and when Smith said it couldn't be done practically, Petersen nixed the project. "I wrote some very very strong letters to the product planning people and to Bob McNamara," Smith said. The letters did no good, but in later years Smith teamed up with Hollowell to offer an aftermarket hardtop convertible conversion for Mustangs.
Smith took an early retirement from Ford in February 1968 to tend to his first wife's terminal cancer. He and his wife, Flossie, to whom he'd been married since April 1941, traveled the world until her death in 1971. According to David Smith, who helped his father with the aftermarket Mustang conversions, Ford provided Smith a new car for many years, but the company "didn't really recognize him; they didn't do much to acknowledge his achievements."
In the decades since, Smith remarried and became active with the International Ford Retractable Club. More recently, he took to traveling the country while trailering a mobile museum that told of his life's work and accomplishments. He died on January 25.