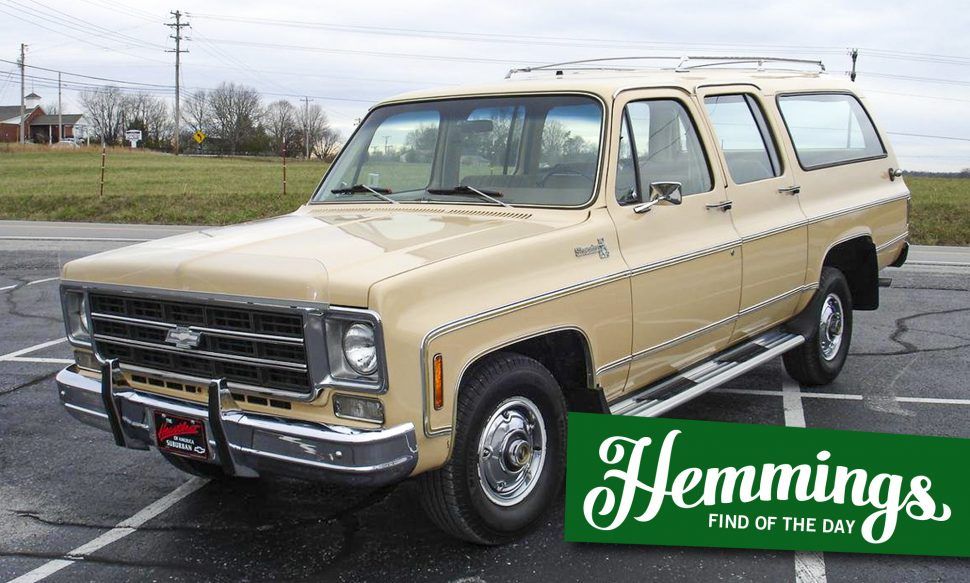 Hemmings Find of the Day: 1977 Chevrolet Suburban
1977 Chevrolet Suburban for sale on Hemmings.com. From the seller's description:
1977 Chevrolet Suburban is up for sale and is in very good original condition. This is a clean suburban ready for work or play. This was purchased to pull large travel trailer but that never came to pass. In preparation to be used for pulling a heavy duty set of rear springs was installed to add with tow package. The original dealer installed tow hitch was replaced and the original old wiring harness for trailer was upgraded to new 6 prong style universal style. The 454 cubic inch motor pulls very well and is backed by a turbo 400 transmission. The tires are low mileage. The interior is very nice and clean. There is no power windows and such and that means less to go wrong. The body is very straight but has some rust bubbling that is shown in pictures. the under carriage has some surface rust , but no rot. The A/C works in both front and rear. The mileage shows 41,000 but I have no way to document it accuracy, and could be 141,000 or more. I am showing odometer to show what it says. They VIN # is posted so you can break down if you wanted. I do not know the history of vehicle except it was purchased out of Texas in 2019. Mechanically this kid hauler or trailer puller is sound.
Price
$15,000
Location
cookeville, Tennessee
Availability
Find more Chevrolets for sale on Hemmings.com.