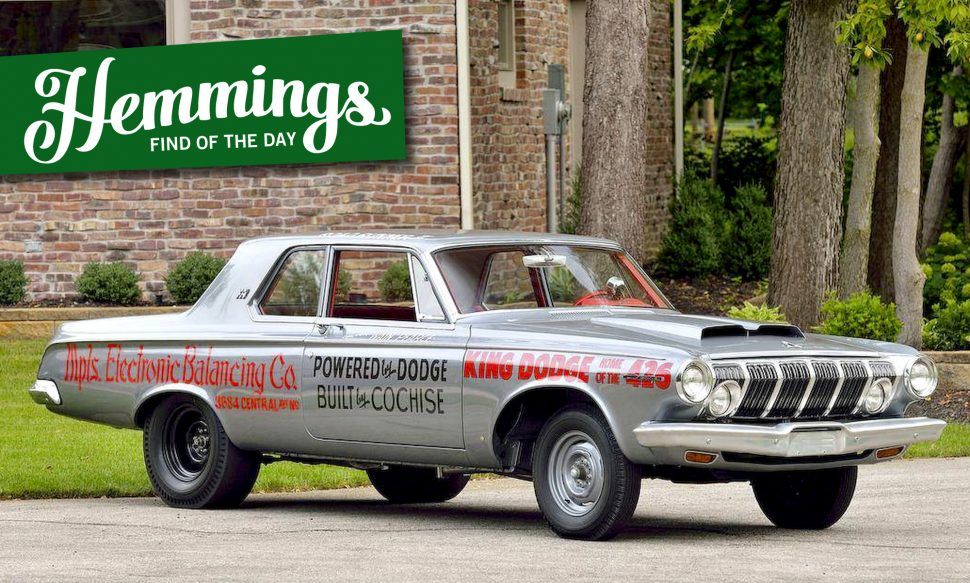 Hemmings Find of the Day: 1963 Dodge 330 lightweight
Documented 1963 Dodge 330 lightweight for sale on Hemmings.com. From the seller's description:
The first factory lightweight (yes car #1) produced and one of only 34 factory lightweight 330-trim coupes produced in 1963. Original factory stage 1, high-compression 13.5:1 Ramcharger 426ci V8 engine cross-ram intake, twin Carter 4-barrel carburetors, 727 TorqueFlite automatic transmission and 3.91:1 gearing in its 8.75-inch axle. Absolutely perfect original body with original body numbers, fender tag and vin tag also the only silver car produced. This 330 was purchased new from King Dodge in Minneapolis on February 8, 1963, it was raced by Wain Pearce regionally and at the 1963 US Nationals, and is also listed in 1963 US Nationals program. This authentically repainted lightweight still features its factory components on the exterior including the aluminum hood with scoop, aluminum bumpers and bumper supports and front fenders; the battery is mounted in the trunk and factory exhaust cutouts are underneath. The red cloth-and-vinyl interior features radio and heater-delete plates and pushbutton shifter. Provenance is very solid, including two original broadcast sheets, a copy of the original purchase order, vintage photos and time slips, a listing in the 1963 US Nationals event program, magazine racing results, a Chrysler Registry visual inspection by Galen Govier stating the car is "first one of the aluminum front end 330's built" and is also the first lightweight example shown in the research done by expert Darrell Davis & listed in the 1962-64 Max Wedge Authenticity Guide. Bar none the best factory lightweight Dodge in existence! This car represents automotive history on so many different levels it is truly a one of a kind museum piece and irreplacable.
Price
$129,900
Location
Rochester, Minnesota
Availability
See more Dodges for sale on Hemmings.com.