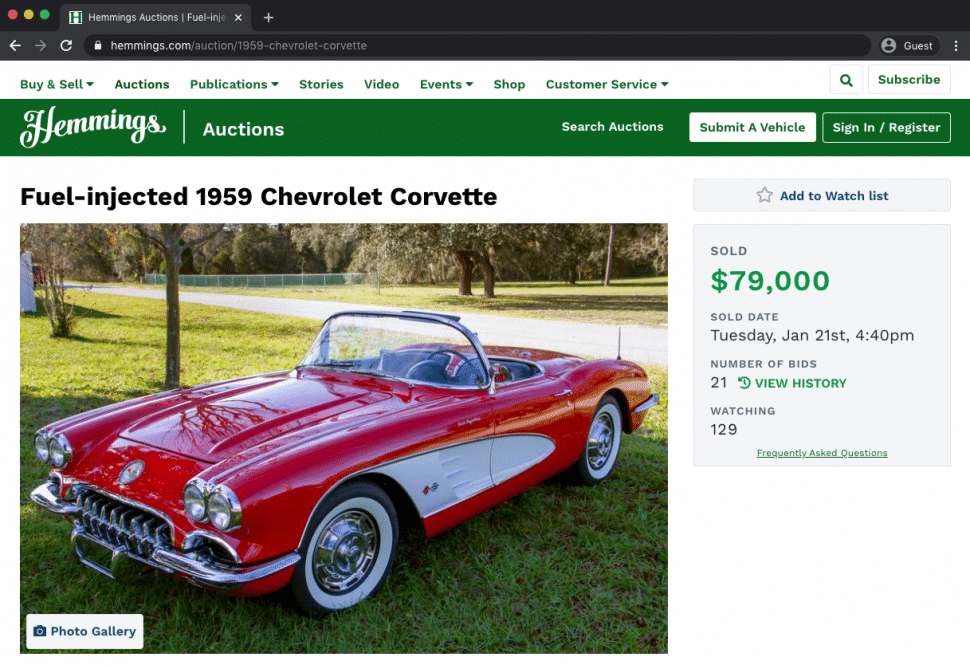 Inside Hemmings Auctions: What to Expect in Submissions
As the Director of Hemmings Auctions, I am deeply involved in the selection, valuation, and shepherding of vehicles throughout the entire auction process, just like the rest of the team. And the submission component is an essential part of that process.
We want our free submission process to be as simple as possible, so we kept our submission form short and sweet. With our auctions, you won't pay the $99.95 fee until your vehicle is officially accepted into the auctions.
Our submission form asks for just a few contact details about you and a form for a few details on the car submitted. Focus on the most important aspects of your vehicle, like "numbers matching," "original paint," or "restoration completed 500 miles ago." We don't want anyone writing an essay for their submission, so we have a 500-character limit on that part of the form. A few photos are necessary to help us gauge the condition of the vehicle during our initial review.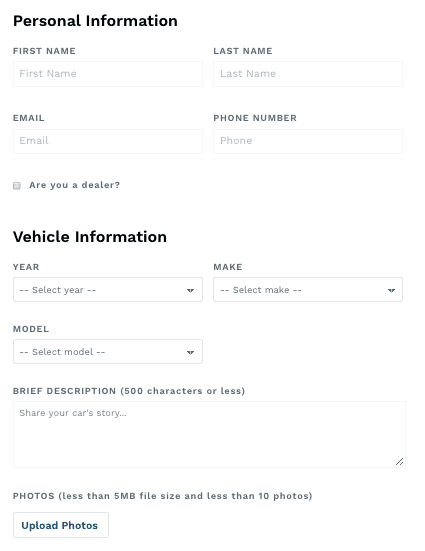 What's our initial review, you ask? We want Hemmings Auctions to bring you a great mix of interesting, exciting, or just plain fun cars from all over the automotive spectrum that are ready to be enjoyed. Typically we're looking for driver-quality (or better) specialty cars that we think will appeal to Hemmings Nation. Once your vehicle makes it through the initial review, it's your time to shine!
If your vehicle is selected, at this step we dive deeper into it. We want to get all the nitty-gritty details about your car. But we still don't want you to write an essay, which is why we've created an online questionnaire that walks you through each aspect of your car so that we can even better judge its condition. We ask about everything from the age and condition of the finish to the state of the weather seals to the size of the oil drops it might leave on the garage floor.
We are looking for an honest assessment here because our online auctions require complete transparency to give bidders full confidence in our listing even when they're thousands of miles away. We use the information you provide throughout the auction process to ensure that we provide the most accurate representation of your vehicle to the Hemmings team as well as potential bidders.
Now is the time where you double down on your photography skills to give us the full picture (sorry) on your car. Great photography is required to get top dollar for your vehicle and we can help you with what you need. We give you a photo shot list with examples if you're the DIY type or our team can recommend a local pro to knock it out in a day!
When you're selling a vehicle online, your pictures and videos are the test drive bidders expect. Your photos need to show those bidders how great your car looks and get them excited to buy it. You also need to show them the blemishes (as Auctions Editor Terry Shea says, "warts and all") so when the buyer pick it up there are no unhappy surprises. After all, at Hemmings Auctions we are looking for satisfied buyers as well as sellers. We want the our auction experience to make the hobby a more fun and rewarding environment for all collectors.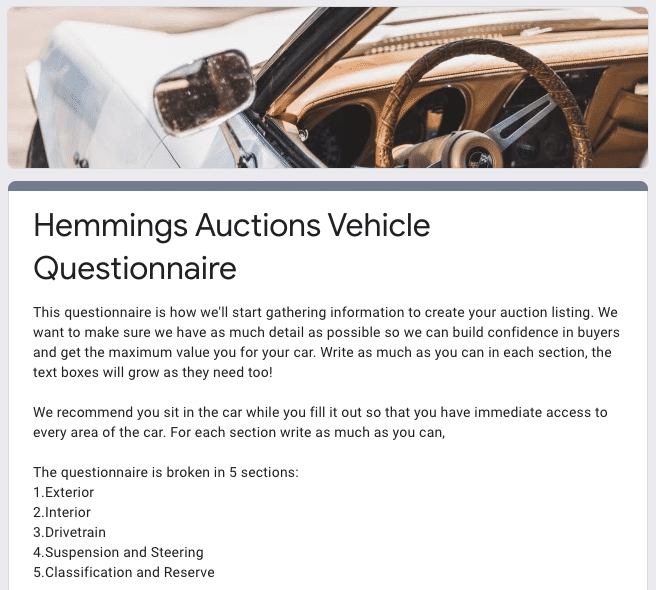 Once we've got your questionnaire that describes your vehicle in detail and a comprehensive set of photos, we're ready to begin our reserve research. Our team evaluates current and historical book values from industry trusted sources and we also look at recent auction results, both live and online, which gives us a real-world snapshot of what people are willing to pay for similar vehicles today. The market can be volatile, so staying on top of it is one of our priorities at Hemmings Auctions.
Our pricing team creates an expected range of sale prices for your vehicle and recommends a reserve that protects you from a sale price dramatically lower than market value while still maximizing your opportunity to sell. Once a reserve is accepted by the seller, the car is fully accepted to Hemmings Auctions and it beings the fast track to going live and accepting bids.
We'll talk about how we take a submission to a sold car soon but until then check out our current batch of inventory, or give the submissions process a go.