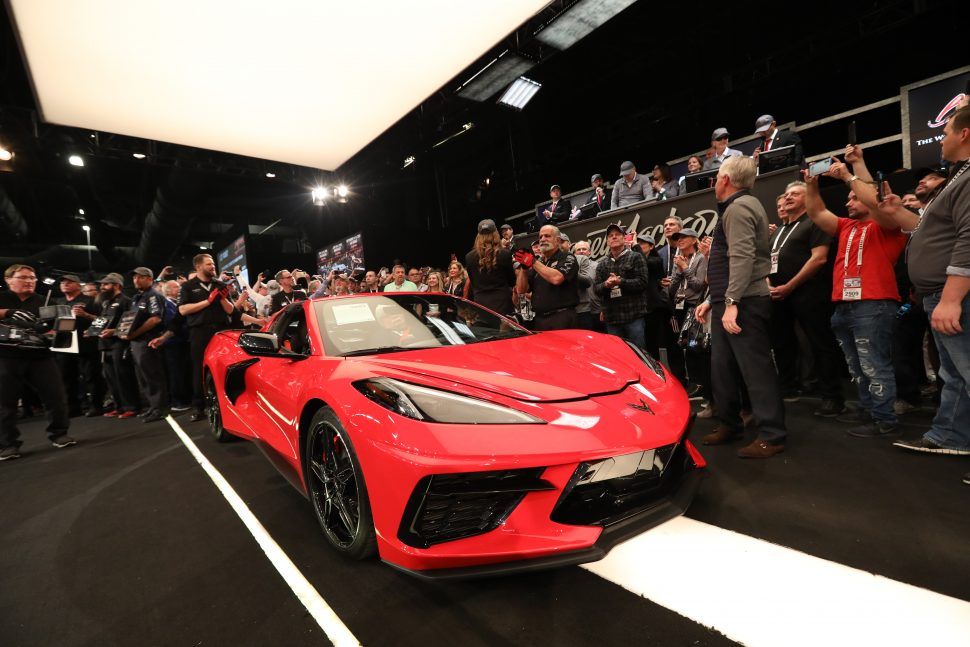 How much would you pay for the first 2020 Chevrolet Corvette Stingray?
If you wanted the very first production 2020 Chevrolet Corvette Stingray and were ready to fork over anything less than $3,000,000, well, it wasn't meant to be. That was the winning bid at Barrett-Jackson's 2020 Scottsdale auction for VIN #0001 of the new mid-engine Corvette.
Of course, that doesn't make this Corvette a $3 million car. If and when it sells again, it will probably go for a more reasonable price (take the very first Dodge Viper as an example, which sold for $285,000 this weekend). The winning Corvette bid was actually a charitable donation to the Detroit Children's Fund. Barrett-Jackson auctions off several charity lots each year, and first VINs often bring the highest bids. The first 2021 Lexus LC convertible, also sold at this auction, went for $2 million. Last year's crop of new cars was a Heritage Edition Ford GT for $2.5 million, a Toyota Supra hammered sold at $2.1 million, and a Ford Mustang Shelby GT500 for $1.1 million.
So who buys these cars? Always someone a lot of money, obviously. Sometimes it's a obsessive collector. It might be a car dealer, looking for the tax write-off and plenty of good favor from the manufacturer. And sometimes it's even Craig Jackson himself – he bought the GT500 last year, painted it green, and put alongside the Green Hornet and Little Red prototypes at this year's show. The 2020 Corvette Stingray Buyer turned out to be Rick Hendrick, who was once the youngest Chevrolet dealership owner in the United States. Today Hendrick is also known for his NASCAR team, while the Hendrick Automotive Group now has 96 dealerships across the country.
All that money doesn't actually get you the first car, only the rights to order it. So Hendrick will still have to pay for his C8 when it's ready for delivery, although being a dealer perhaps he can get invoice price. It's unlikely that will be a no-frills base model, which starts at $59,995 (including destination). Add 3LT trim, the Z51 performance package, and a few of the numerous color and trim combinations and the price climbs well over $80,000. We're assuming the Hendrick can afford it. And while 80 large is no small dollar figure, for those willing to wait a few months and accept a more random, higher-digit VIN it's a heck of a discount from $3 million and change.