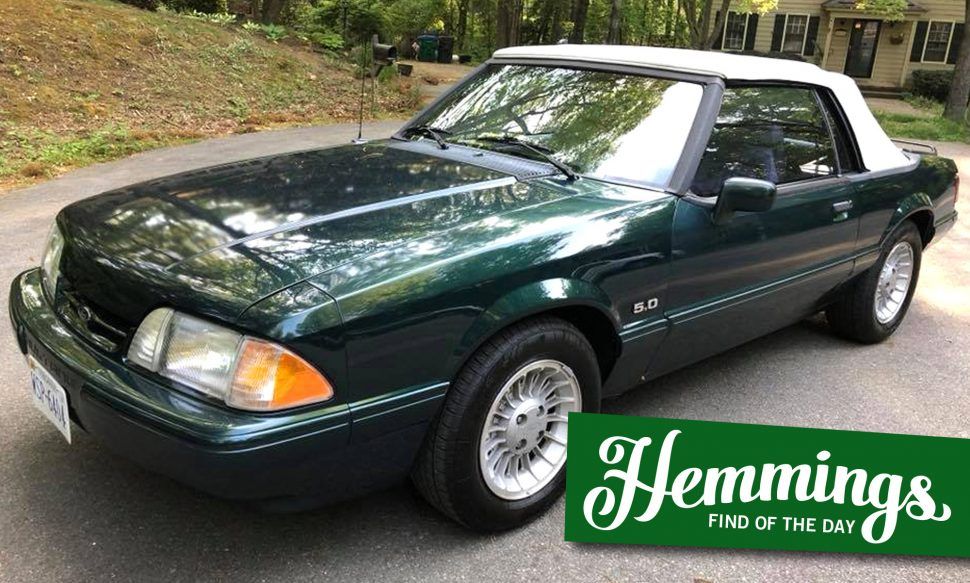 Hemmings Find of the Day: 1990 Ford Mustang 7-Up
1990 Ford Mustang 7-Up edition for sale on Hemmings.com. From the seller's description:
Selling my 1990 Ford Mustang "7-UP" LX Convertible. This outstanding example of this highly sought after Fox Body Mustang has just 53,800 ORIGINAL (and Documented) miles, a clean Carfax and title, and retains the original Window Sticker and Bill of sale. This is an unrestored (and unaltered) ORIGINAL, and as such is not perfect, however you will look hard to find a better example. The paint is still original and looks nice but has a few small spots on the hood that appear to be from tree droppings (and will probably compound out). The passenger's seat has some light discoloration in the seam areas (see pictures). These should also clean up with a bit of elbow grease. Top goes up and down nicely. The car is a pleasure to drive, smooth and tight.
What is a 7-Up Mustang, you ask?
The 7 Up Mustang was a special edition Mustang made for a contest for the 7-Up soda company. Originally 30 were to be made and given away in a contest at the final NCAA game that year, however the contest was cancelled at the last minute, leaving Ford with just over 4,000 pending special edition Mustangs which they decided to sell with the same paint color & options, giving birth to the "7-up edition" Mustang.
Ford originally intended to produce 5,000 of these, however only 3837 of these were produced. They used a specially modified convertible LX model Fox Body as the platform to build these special editions. They all featured the HO 5.0L V8 engine that produced 225 horsepower. The paint and interior was inspired by the branding used by the 7-UP Bottling company. It featured a green and white scheme that made these Fox Body Mustangs really stand out in the crowd. The special edition package was referred to by Ford as the Special Edition Package 562. Included in this package was:
• A Deep Emerald Green Clearcoat Metallic Exterior (Paint Code PA)
• White Convertible Top
• White leather sport seats
• White interior trim and components
• 15" GT Turbine Wheel
Production was very limited:
• 3837 were produced in total
• 2477 with an automatic transmission
• 1,360 with a manual transmission
A Google search will provide much more detailed history in these unusual Mustangs.
[hftod ad_id="2112813″]
Find more Fords for sale on Hemmings.com.