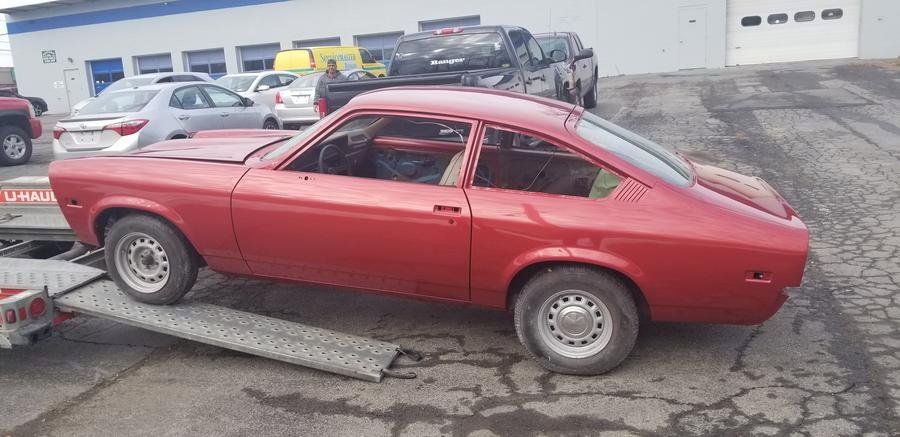 From the My Hemmings pages: the Vega 444 sheds its rusty panels and gets paint
[Editor's note: We're catching up here with two updates from reader mnizer about his Vega 444 project.]
When we left off last time, the car was running better, I had removed all of the trim, lights, locks, handles, and side glass, and it was headed out to Syracuse, New York, to spend some time at my uncle's house where the fairly extensive bodywork would be completed. During its stay in central New York, the 444 received a new right rear quarter panel, had the roof straightened and fixed, a new floor on the driver's side welded in, and a lot of dents and dings repaired. Finally, it was put in a couple coats of primer to seal it up for the trip back to Albany.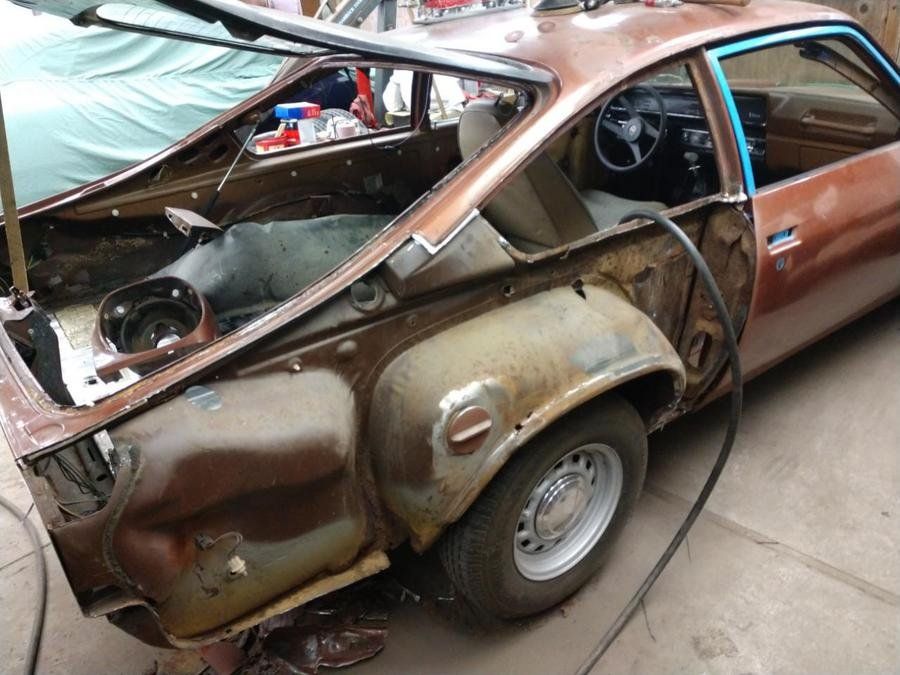 While it sounds simple, like any project, we ran into setbacks and unexpected issues. The most significant was the rear quarter. About a year and a half back, I had found and purchased a mint NOS quarter at a car show. I was excited to replace the Swiss cheese-looking original panel that was severely damaged and rusted from a prior accident. Removing the old sheetmetal went smoothly, but when trying to install the NOS quarter it was discovered that it was for a notchback, not a hatchback. It was a good 4 inches too long and the contour was off. It was completely unusable. Good sheetmetal for a Vega is notoriously difficult to find, even when you have a lot of time and can look, but to get a good useable quarter on demand is nearly impossible. I did find a correct NOS one, but between the cost of the part and shipping it would be nearly as much as the whole car was worth. Fortunately, the H-body community is extremely helpful and I was able to find someone in neighboring Massachusetts who was parting out a car and it had a decent quarter. $200 and trips to central Massachusetts and to Syracuse later and we were back in business.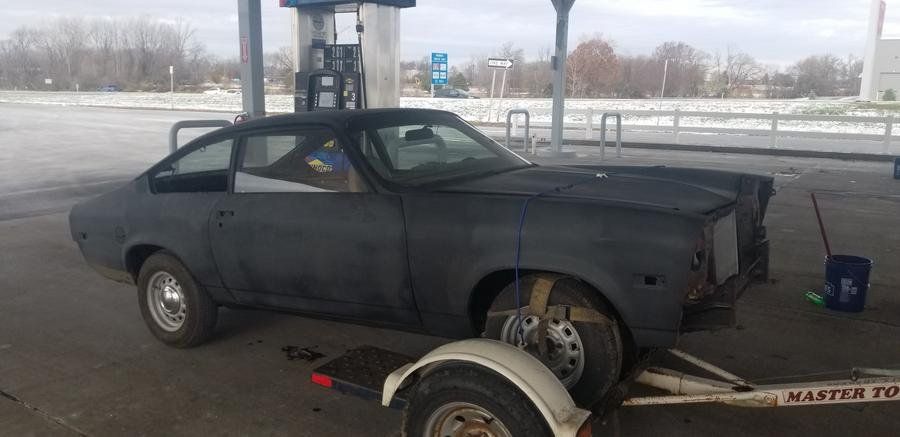 From there, the progress went smoothly. A few weeks ago, we were able to go pick up the car and bring it back to Albany. When I laid eyes on it for the first time in a few months, I thought wow, what a difference from when we left it. It's now all one color and the body is straight as an arrow. But even better than getting to see all of the progress was a special picture I got when we were there. I have in my possession a picture of my dad, my uncle, and me working on the original Vega. We were able to repose that same picture 30 years later and I now have a great "then and now" shot to go in my restoration book. Because that's what this build is all about, getting to spend time with family, especially my dad, and share our love of cars.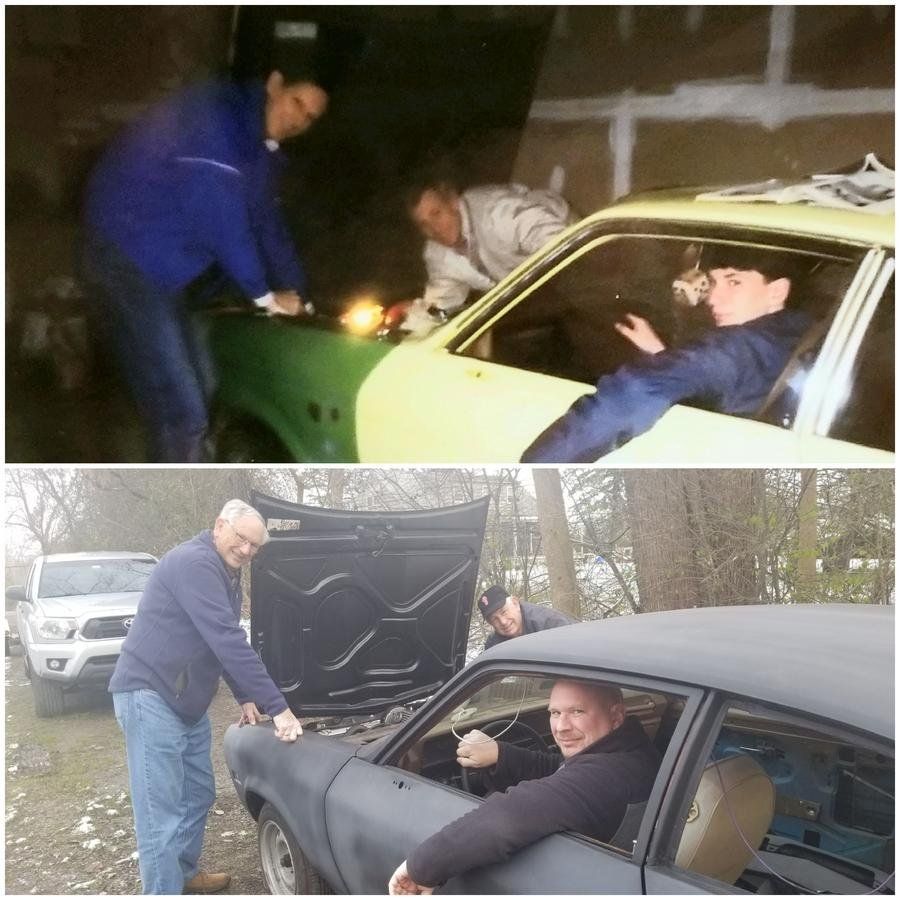 One final note, the car is now at a local shop, getting a final coat of primer. It will be blocked out and in the next month, it will have a two-stage Firethorn Red sprayed on.
**
There it is, the light at the end of the tunnel! It's still just a small dot, but now I can see it, and it's red. Firethorn Red Metallic to be exact.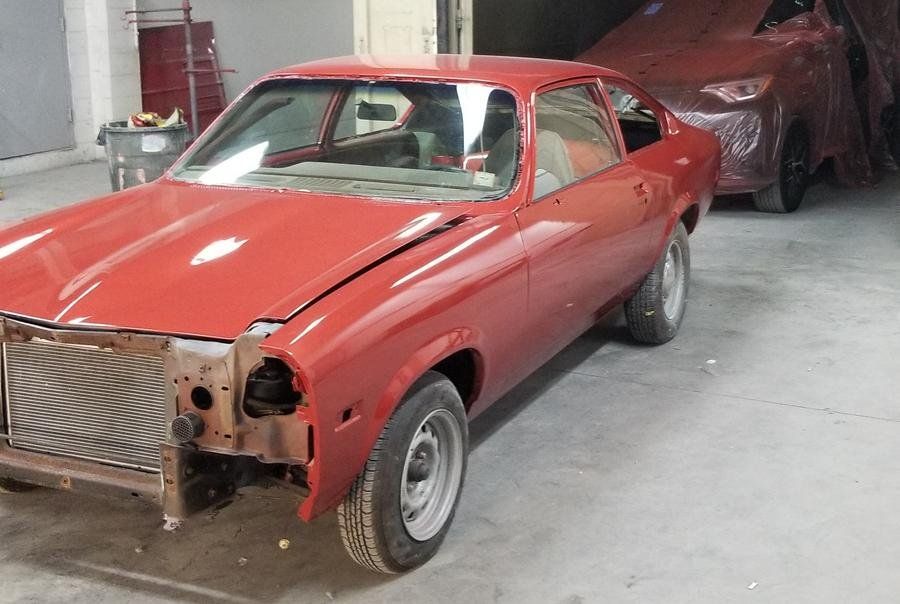 My dilemma, how am I going to get this car painted on my extremely limited budget? I could try to do it myself, we have an HVLP gun and a big enough compressor, but our work garage really isn't set up to paint. Poor lighting, lots and lots of stuff in the way, and it isn't really ventilated. I've also never painted before and a first attempt on this important project was not desirable.
Well, I was fortunate enough that my dad was able to find a shop locally that was able to do an all over paint job within our means and I will leave it at that. Now, this car will never be a concours-level show car, and I knew that from the beginning, so the paint isn't perfect. It is, however, fabulous looking in my opinion and to see the car all in one color just as I imagined 30 years ago is beyond words. It's a basecoat clearcoat, so it should be more durable than a single stage and it has just a bit of flake in it to really glisten in the sun.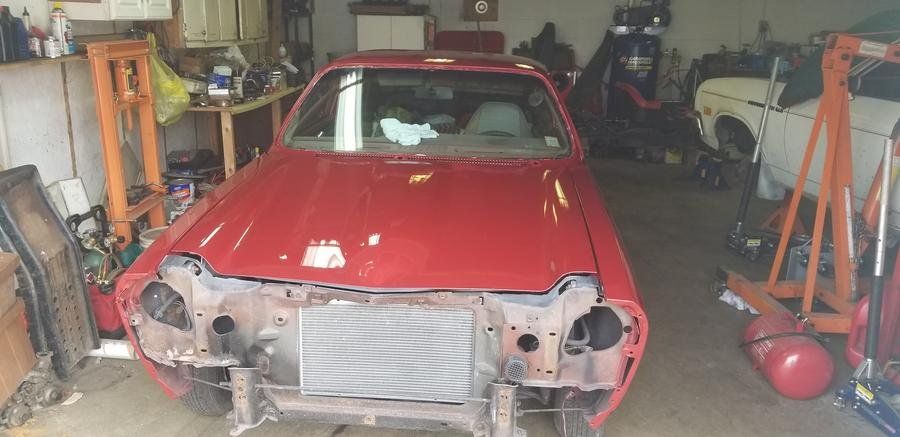 Now comes the tedious job of reassembly. In preparation for paint and in order to best restore it, the car was stripped to its bare bones. The interior was removed, all seats, panels, and dash. All lights, door locks, and handles were removed along with the mirrors, bumpers, and the nose. I have to admit, it's a bit overwhelming trying to figure out where to start, but I have dug in starting from the back and working my way forward. More so because I still have some motor work to do.
The car still isn't running optimally and I plan to pull the intake and exhaust off and swap out the cam. A performance cam for the Vega 2300 is a rare part and I'm fortunate to have a second. I picked up a Syg Larson cam with an even bigger lift and longer duration than the current Crane cam I have installed. I'm hoping this will help with the bigger carburetor and improve the performance even more. I also want to reseal the intake to ensure there are no vacuum leaks as well as check float levels and possibly re-jet the carburetor. Also still left to install is a custom exhaust to accommodate the header, allowing the car to breathe freely. While there's still a lot left to do, the progress is more and more noticeable, especially since the completion of the paint. My goal is to have it "completed" (I use quotes because, let's face it, no car project is ever really finished) by late spring in order to show it at one of our local springtastic shows. Keep tuning in as we round the final corner into the home stretch and finish the dream car of my 16-year-old self.
[Log in to HMN.com and head over to My Hemmings to share your old car stories, photos, or videos.]