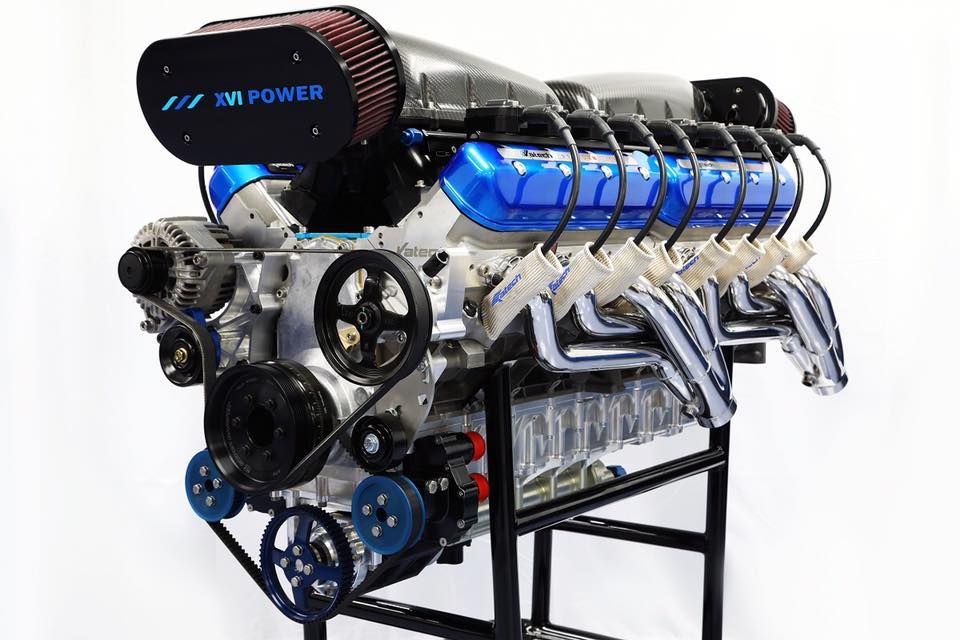 This LS-based V-16 is real, and it's spectacular
Somehow we missed this engine at the 2019 SEMA Show, probably mistaking it for two V-8 placed very close together. A V-16, after all, is not something you see very often, and a brand new one is even more unexpected. It's from Sixteeen Power Performance Marine Engines, hailing from the metro Detroit area, and comes in flavors from a naturally-aspirated 900 horsepower to a twin-supercharged 2,000 hp. And in case you're wondering, yes, Sixteen Power will build an automotive version of the engine on request.
First, though, why a V-16? We talked to Sixteen Power's Tom Robinson, who explained that he was looking to offer more reliability in a high-horsepower marine engine. V-8s making 1200 hp and beyond don't hold up, don't come with a significant warranty, require race gas, or any combination of those three. "The whole idea is to replace the V-8s that people are using in boats with an engine that's less stressed and will be more reliable," says Robinson.
Before we continue, soak up this YouTube video of the V-16 on the dynamometer (and pay close attention to the horsepower readout). Did we mention it runs on pump gas?
You may remember the Cadillac Sixteen concept car from 2003. Robinson does, as it's what inspired him to want to build his current engine. That lead him to racing and prototyping shop Katech, and Sixteen co-founder Caleb Newman. Newman was the program manager for Katech's role in making the Cadillac engine real. A third partner, Jeff Stevenson is both the main financial backer and the test driver, with a pair of the engines set to go in his 42-foot offshore racing catamaran.
The new engine doesn't share anything with the Cadillac design, other than the GM small-block architecture. "We had to start from scratch with our design," says Robinson, explaining that the concept car engine had a few feature he didn't like, such as the single cylinder heads. Sixteen Power's engine has four separate cylinder heads, standard units that fit a regular small-block V-8. "It made our engine block a little longer, and that gave us room in the middle of the block to do the oil and water the way you want to with an engine that long." Plumbing the fluids in and out the middle of the engine is preferred, Robinson explains, because running eight cylinders long in a circuit is asking for trouble. And speaking of the block, it's a single piece designed by Sixteen Power and cast in a Detroit-area foundry, lest you suspect it's merely two V-8 joined end to end. The single crank and single camshaft are machined from billet steel. Bore and stroke are based on the LS7, bringing the total displacement to 14 liters, or 854 cubic inches.
Work on the engine started in 2013, but customer sales didn't start until 2017. "We do a lot of reliability testing, because marine engines take a lot of abuse." Both the assembly and dyno runs are done at Katech, says Robinson, noting its reputation for quality work. Part of the testing regimen involves a 16-hour stress test on the bench. A 1,200-hp design has already passed that, while a naturally aspirated 1,400-hp engine is up next. While Sixteen Power has been focused on the marine market since the start, the SEMA appearance and a follow-up at the PRI show in Indianapolis (as part of ARP's booth display) has driven plenty of attention from the wheeled transportation world.
As for the automotive component, the biggest issue is space. You could fit the V-16 into a car originally made for a straight-eight. "Otherwise you're building a tube frame car around the engine or adding significant length," says Robinson, adding that a mid-engine truck with a transaxle would be the easiest way to get the V-16 into a road-going vehicle. He'd like to see something as soon as the next SEMA show this fall, but says that's probably unrealistic.
Sixteen Power hasn't set a price for the automotive version, but the marine V-16 costs at least $100,000. "You don't get too many serious customers with something so exotic and so expensive," says Robinson, but he's fielded a few inquiries from people who are already building cars with the engine in mind.