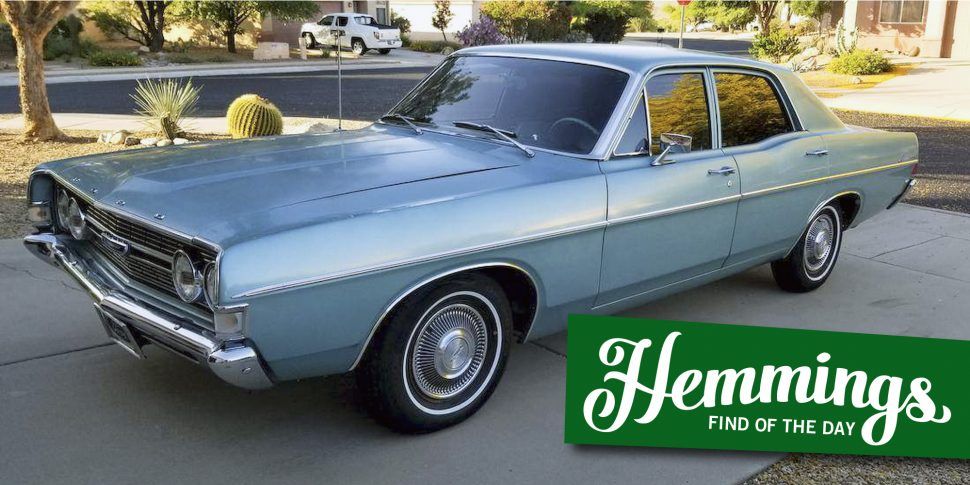 Hemmings Find of the Day: 1968 Ford Fairlane 500
Unrestored 1968 Ford Fairlane 500 for sale on Hemmings.com. From the seller's description:
While it was considered a 'family car' because of the full size and 4 doors, this 1968 Ford Fairlane 500 is a smooth riding, yet gutsy vehicle. So many people have mentioned that they grew up riding in a Fairlane, but haven't seen one in this good of shape in decades. The drivetrain consists of the ever-dependable 302 V-8 with an automatic 3-speed transmission. The suspension has been maintained and allows the car to 'float' over bumps or holes in the road as if they don't exist. This car starts and runs great. I drive it once a week for work.
Yes, the car is 51 years old. But with just 48,300 miles, the engine and tranny have a lot of adventuring left to do. The original paint job has a few minor issues but is better off than the owner, wishing I had only 48k miles on me! There are a couple of minor 'bubbles' that can be hammered out and the chrome in general is in great shape to go with a sound body.
Sit inside and close your eyes. You will have the immediate unique smell of a 60's version car and the growl of the 8-cylinder engine as it takes you back in time. The a/c still works, though the compressor is beginning to knock. There are no blind spots as you look around from the driver's seat. With the family in place, you have enough trunk storage space to equal that of SUV's in today's culture.
Price
$9,000
Location
Mesa, Arizona
Availability
See more Fords for sale on Hemmings.com.