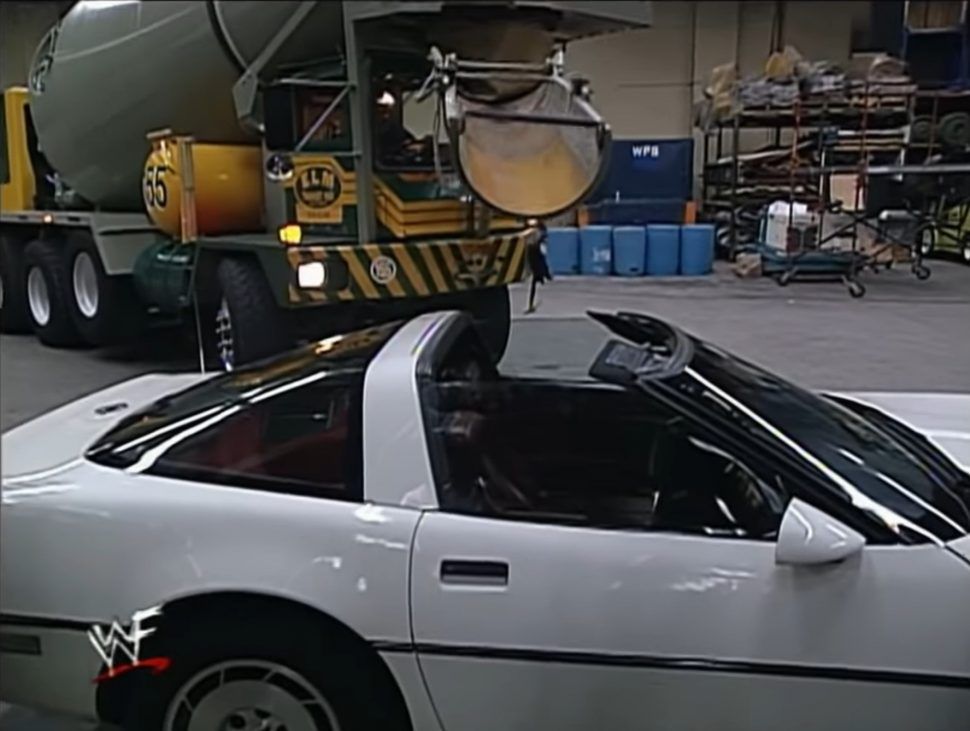 Anybody else notice when cars show up in professional wrestling?
A while back, I confessed that, in order to take my mind off of seeing cars every minute of every day, I like to sit back and enjoy a little professional wrestling on TV. I started when I was 12, watching the WWF on WWOR-TV Channel 9 out of Secaucus, New Jersey. I found WCW once my parents got cable, I discovered ECW at 2 a.m. in syndication somewhere, and though my interest has waxed and waned in the decades since, I've always kept up with the sweatiest soap opera going.
Even now, this very morning, before I set about chronicling the slow but steady evolution of the Ford Galaxie 500 from 1965-68 (see it in the February 2020 issue of Hemmings Classic Car), I'll make a Mickey D's run and listen to Busted Open with Dave LaGreca and his all-star rotation of cohosts on SiriusXM Channel 156 as they dive into the nuts and bolts of whatever wrestling show was on the night before. I love the peek behind the curtain.
Occasionally, very occasionally, a car will turn up in a wrestling storyline. I'm happy to say that it doesn't ruin anything for me, except to put me on alert. Rule of thumb, if a car shows up in a wrestling program, at least in the last 20 years, generally one of two things will happen: The car will get damaged, or the car will do some damage. For someone who's watched an awful lot of wrestling, I've seen a surprising number of cars turn up in wrestling angles over the years. (Granted it's a lot of years: 1982 was … let's see … carry the … thirty … oh dear. A long time. I'm old.) With my credentials as both a fanatic in both the wrestling and automotive realm, here are some of the best moments when cars made into the wrestling world.
I'm going to purposely take limousines and Town Cars out of the running. Yes, a stretch Lincoln exploded in 2007, purportedly with Vince McMahon himself inside. Yes, Bill Goldberg smashed a Lincoln's window and shredded all of the tendons in his arm, putting him out of commission for a year. Yes, Stone Cold's monster truck rolled right over The Rock's new Lincoln Town Car. Yeah, yeah. Great moments all, but the Town Car is the default. I'm talking about the more interesting metal that shows up adjacent to the squared circle. Let's get started.
The Cadillac, the Mercedes-Benz, and a work truck
Anyone recall the fall of 1986 when The Four Horsemen stalked (in a Cadillac) American Dream Dusty Rhodes (in a red Mercedes W123 SL ragtop) and crushing his hand with a 2×4? I do, especially for the cars – Ric Flair and his entourage in a Cadillac, Rhodes in a red Mercedes SL (W123) ragtop, and a square-body Chevy dually work truck in the parking lot that the Four Horsemen tied their victim to. New AEW wrestling group on TNT recently had a marvelous homage to that very vignette, with Dusty's son Dustin, also a wrestler, getting his hand slammed in the door of a limo (of course, it's a Town Car).
Monster Truck Tug-Of-War
WCW sponsored several monster trucks in the late '90s, and what better way to promote them than a Sumo-style Monster Truck Tug-Of-War between Hulk Hogan and The Giant (Paul Wight, later known as The Big Show) on the roof of Detroit's Joe Louis Arena at WCW's Halloween Havoc '95? After Hogan pulled Giant out of the Sumo circle and won, the men came to fisticuffs, leading to The Giant falling off the roof of the dome. Yet Giant still managed to show up later to get revenge on Hogan (who had not been arrested for manslaughter) in the ring.
Golddust's Golden Coupe de Ville
Years before Austin Power faced off against a gold-obsessed villain, "Rowdy" Roddy Piper took on androgynous heel "Goldust" Dustin Rhodes at WrestleMania 12 in a "Hollywood Backlot Brawl" match. It started with Piper taking a 2×4 to the windows of Goldie's Coupe deVille, then taking off after Rhodes in a white Ford Bronco. Cue actual OJ chase footage.
Stone Cold's biggest beer run
Few who lived through WWF/WWE's Attitude Era could forget Stone Cold Steve Austin driving a Ford-cab Coors Light beer truck into the arena during Monday Night Raw, pulling out a hose, and spraying the canvas (and most of the McMahon family) down with beer. Not long after, Kurt Angle, in his initial goodie-goodie phase, repeated the feat with a DIVCO truck and wholesome milk.
The cement Corvette
Steve Austin's long-term feud with Vince McMahon took out several cars as collateral damage. But perhaps the best moment, both in terms of awe and cringing at the destruction, was when Stone Cold totaled Chairman McMahon's C4 Corvette by filling it with wet cement.
Ruining a perfectly good NASCAR Nationwide car
In 2009, Randy Orton's buddies presented him with a gift: a stock car from the NASCAR Nationwide (now Xfinity) series. Predictably, the car was later defaced byt Kofi Kingston with both paint and a crowbar, simply because it had Orton's face on it. The #18 Toyota means that the car in this episode represented Kyle Busch's Joe Gibbs Racing car. Earlier this month Busch came back to the WWE to briefly win a title belt. Yes, really.
Brock versus the Cadillac
Brock Lesnar made short work of J&J Security's new 2015 Cadillac CTS … with an axe. With the fake port holes on the fenders and camo accents, we can't say we blame him.
The Rolls-Royce of wrestling destruction
Second-generation Mexican wrestler Alberto Del Rio had a gimmick as a rich playboy, and every week he drove into the arena in a different car that cost as much as a four-bedroom house in the Midwest. So when he annoyed Rated-R Superstar Edge, the Canadian took a crowbar to Del Rio's Rolls-Royce Silver Spur and shattered a lot of glass along the way. Just in case that was too subtle, Edge would later drag the Rolls back out and spraypaint it.
A Camaro completes the retro scene
And who here has keyed into the rabbit-hole madness of Southpaw Regional Wrestling? It's what happens when a group of WWE Superstars spend too much time backstage: they parody a small-market '80s studio wrestling show, with bad wigs, absurd promos and on-point hilarity. It also features Good Brother Luke Gallows (he of The O.C., formerly of NJPW's Bullet Club) as Tex Ferguson, announcing he's coming to Southpaw Regional Wrestling soon … and then getting lost on the way in his beautiful blue late-second-gen Camaro Z28.
Anyone else admit to watching wrestling on TV? Anyone else remember any good rasslin' angles involving cars? Confess!