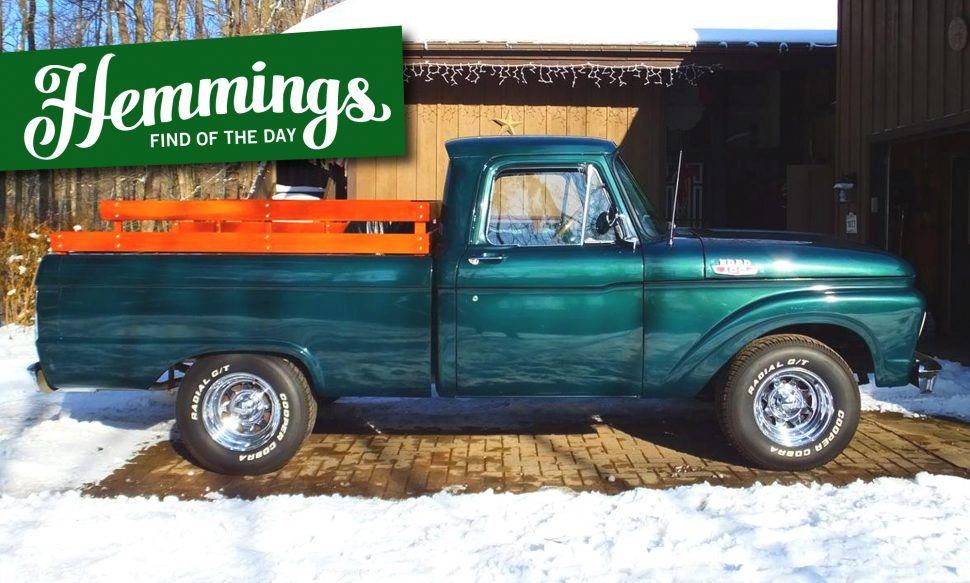 Hemmings Find of the Day: 1964 Ford F-100 Styleside
Still fresh after a 2006 bare-metal paint job, it's a 1964 Ford F-100 for sale on Hemmings.com. From the seller's description:
A two-thumbs up, head-turner, classic pickup in green paint & cream-colored grill with original 292 cu. in. V-8, & original "3 on the tree" manual transmission with only 79,228 miles at time of writing.
Just the right amount of customization for this strong 56-year old with the desirable rumble from the dual exhaust pipes with chrome tips, Pacer slotted chrome wheels sporting P255/70R15 newer raised white letter Cooper Cobra Radial GT tires, ¾" thick cherry wood bed with matching removable stakes, and a Grant steering wheel.
All new chrome in 2004-2005 including V-8 hood & Ford emblems, front & rear bumpers, door handles, outside rear mirrors, still look new. Engine repainted when out of frame & added chrome valve covers, chrome breather, & chrome air filter cover.
Truck was completely stripped to bare metal for new paint, base clear coat, in 2006, no Bondo. After sand blasting the bed & welding the box corners, truck went from original black to a gorgeous green including interior dash. Rebuild included new stabilizer in 2008, headlamp, ignition coil, radiator hose, manifold gasket, clutch bearing, flange gasket, carb gasket, motor mount, transmission mount & distributor in 2009, recore heater, radiator hose, sending unit, gas tank, speedometer, Pertonix Ignitor electronic ignition system, & glove box in 2010, a master cylinder in 2011, after-market signal light switch, horn moved from the steering wheel to the dash, AM/FM with cassette player and a new headliner was installed by second owner, a professional mechanic who bought the truck in 2001 & rebuilt it with loving care for his wife to drive.
I am the third owner, buying the truck with approx. 76,400 miles on it in 2011, putting only a little over 2,800 miles on it. Replaced all 4 wheel cylinders & bled brakes at 78,117 miles, replaced the original cracked nylon steering wheel with the Grant metal & wood wheel, & added a chrome locking gas cap.
Always garage kept, never driven in the rain nor snow under my ownership. Engine turns over easily every time. Vehicle runs like a '64 should, with no power steering, no power brakes. Heater & defroster works. Seat belts added for safety. Original valve covers, & many original receipts & original Operator's Manual included. Currently registered and inspected in New York State and resides near Buffalo.
Price
$18,500
Location
Glenwood, New York
Availability
Find more Fords for sale on Hemmings.com.