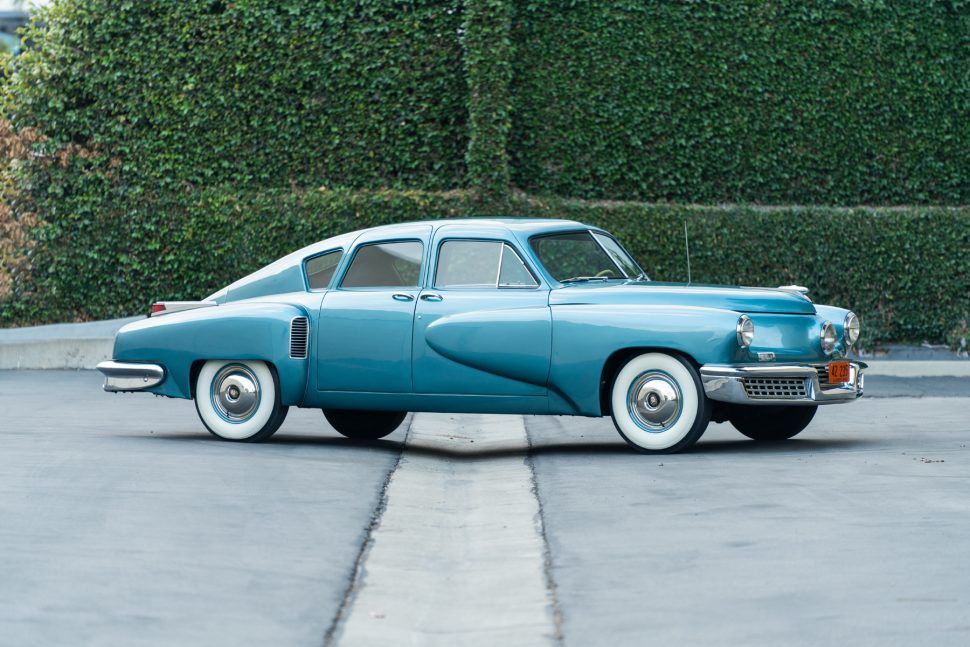 Tuckers are more popular than ever, and this 6,300-mile car going to auction is proof
Whatever your opinion on Preston Tucker or his short-lived automobile company, it's an undeniable fact that his cars carry a strong following. Give plenty of credit to Francis Ford Coppola's Tucker: The Man and His Dream for bringing the name back into popular culture (with a reissue on Blu-Ray in 2018), but the legend has grown even bigger in the last 20 years. Consider that before the year 2000, a Tucker at auction would fetch around a quarter-million dollars. Today, they're almost guaranteed to fetch a million, and some approach the $2-million mark. Whenever a Tucker comes up for sale people, take notice. Skyrocketing values also mean that expensive, concours-level restorations are now cost-effective. Which makes Tucker 48 #1034, up for sale at Gooding & Company's 2020 Scottsdale Auction, notable in that it hasn't been restored, but has fewer than 6,300 miles on the odometer.
"Tucker 1034 is a bit of a celebrity in it's own right," says Tucker expert Rob Ida of Ida Automotive. "It's currently part of a world class collection and gets plenty of use. It's often seen at Cars and Coffee events and was the talk of Monterey for driving around Car Week during the week of Pebble Beach. This is a very low mileage example of a Tucker 48, with 1,000 of its miles being logged in over the past year."
This Tucker is also special for its fully documented history. Originally purchased from Tucker's liquidation sale in 1950 by James Anderson, owner of the Packard Dealership Joy Brothers Motor Car Company in Saint Paul, Minnesota. It sat in the basement for 18 years, the result of an estate dispute over the dealership. In 1968, Tucker 1034 was sold to Alan Korbel of Wisconsin and then went to collector Clayton Stone in 1978. Stone sold the car (and several other from his collection) to Gene Cofer (who was an impressive collector himself). Cofer sold the car to the current owner through Gooding & Company's 2012 Amelia Island auction, where it sold for $1.32 million.
The low mileage is notable, says Tucker expert Mark Lieberman, but there are other examples out there with around 20,000 or fewer miles. "The idea of ultra low-mileage cars is less unusual with Tuckers because they're less reliable and finicky," says Lieberman, while noting that some cars, such as 1041, have racked up more than 250,000 miles. What makes 1034 special is its high level of originality, "A lot of these cars were left to neglect. They rusted badly and had to be brought back. This is not one of those cars that fall into that category."
As for the money, Lieberman thinks Gooding's $1.75- to $2.25-million estimate is reasonable. The last four sales of original Tuckers, going back to January, 2018, all went for $1.6 million or more. The last, car 48, sold for $1.985 million, including buyer's premium.
A better question is: Why are Tucker's worth so much, and gaining? Automotive historian Ken Gross notes that Tuckers, in general, are always a big draw. "I've put Tuckers in several museum exhibits and they really draw people." In 2018, when Tuckers had a special class at the Pebble Beach Concours d'Elegance, Gross says they got as much publicity as the Bugattis, Delahayes, and Delages that usually grab the headlines. As for the enduring popularity, Gross puts it on Coppola's movie, which dramatized Tucker's struggle to get his company off the ground. "People love the idea of the little guy taking on the big corporations. I think that's why they're so popular today."
Lieberman agrees. "People like the romance of doing something that was never done before, doing something that was different, doing something that was clearly different from anything else on the market. At the time this looked like a spaceship."
And again, no matter where you fall on the question of whether or not Preston Tucker's company could have made it, few cars since have so many interesting ideas combined with such an interesting story. As for car 1034, well, it's only original (or even mostly original) once.