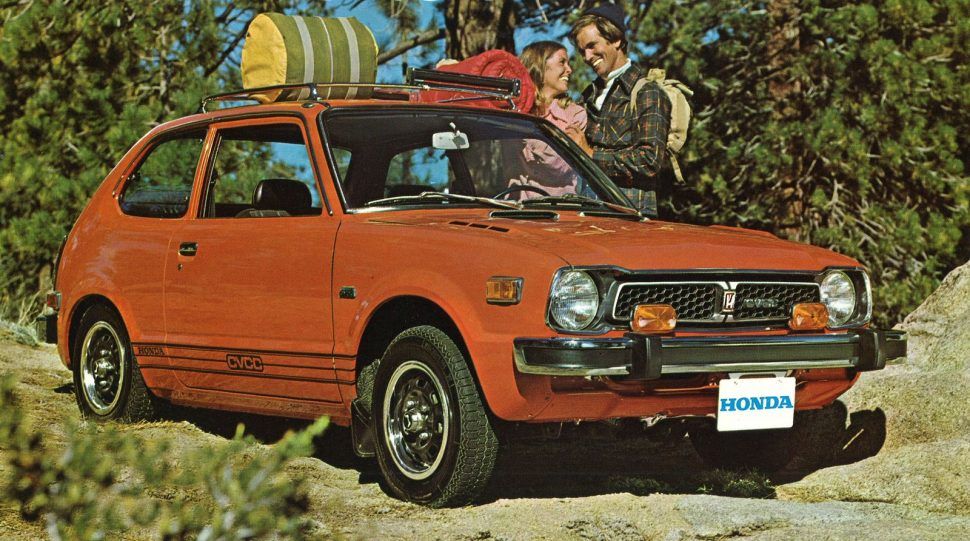 What the World Came Around To: 1975 Honda Civic brochures
Images are from the brochure collection of Hemmings Motor News
The Civic has been a perennial best-seller for Honda, selling more than 100,000 copies in America every year since 1975, which was just two years into this model's impressive 47-year run. Unlike its predecessors, this small and simple car largely followed convention; the subcompact two-door was introduced with a 1,169-cc (71.3-cu.in.) four-cylinder engine mounted transversely and driving the front wheels, in the style of the Saab 92 or BMC Mini. The Civic offered reasonable room, considering its 86.6-inch wheelbase and 147.8-inch overall length, and its 50 hp engine was both thrifty and peppy, all the better to exploit the nimble handling provided by its rack-and-pinion steering, fully independent MacPherson strut/coil spring suspension, and power front disc/rear drum brakes.
A small boost in displacement, to 1,237-cc, brought an equally small boost in horsepower, to 52, in 1974, but bigger changes were on the horizon for the 1975 model year. This was when a second body style, the hatchback, was added to the trunklid-equipped two-door sedan. Those Civic models were the focus of the first, eight-page brochure discussed here; this literature, "Printed in USA," had a hokey, charming international theme that combined contemporary-dressed models with others in traditional European costumes, all in a vaguely French-looking setting.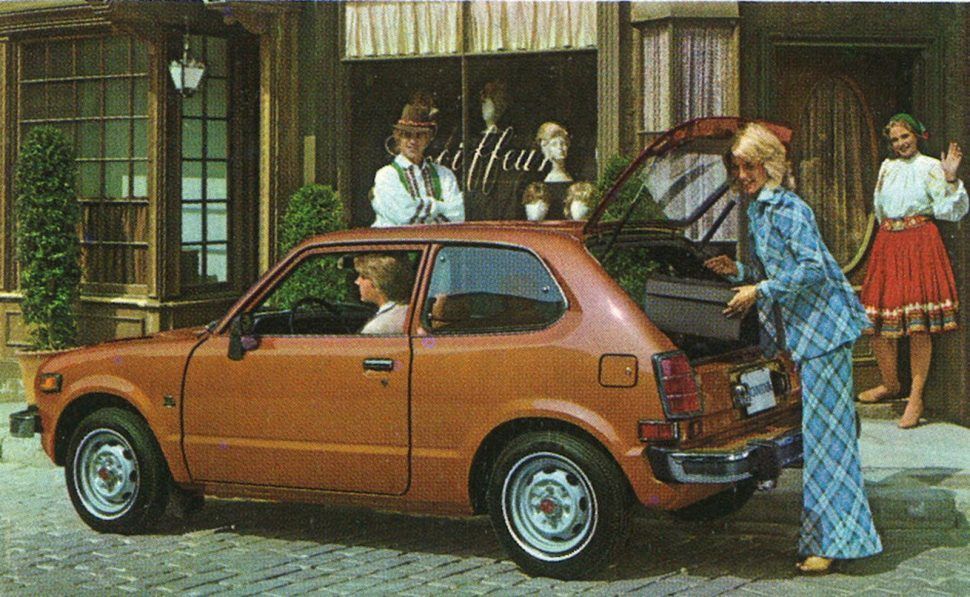 Those 1200-powered cars were claimed to offer 28 mpg city, 41 mpg highway, with standard four-speed manual transmission; the optional two-speed Hondamatic traded mileage for convenience, with highway mileage topping out in the upper 20s. Their SOHC engines used a single two-barrel downdraft carburetor and could famously run on regular, low-lead, or unleaded gasoline.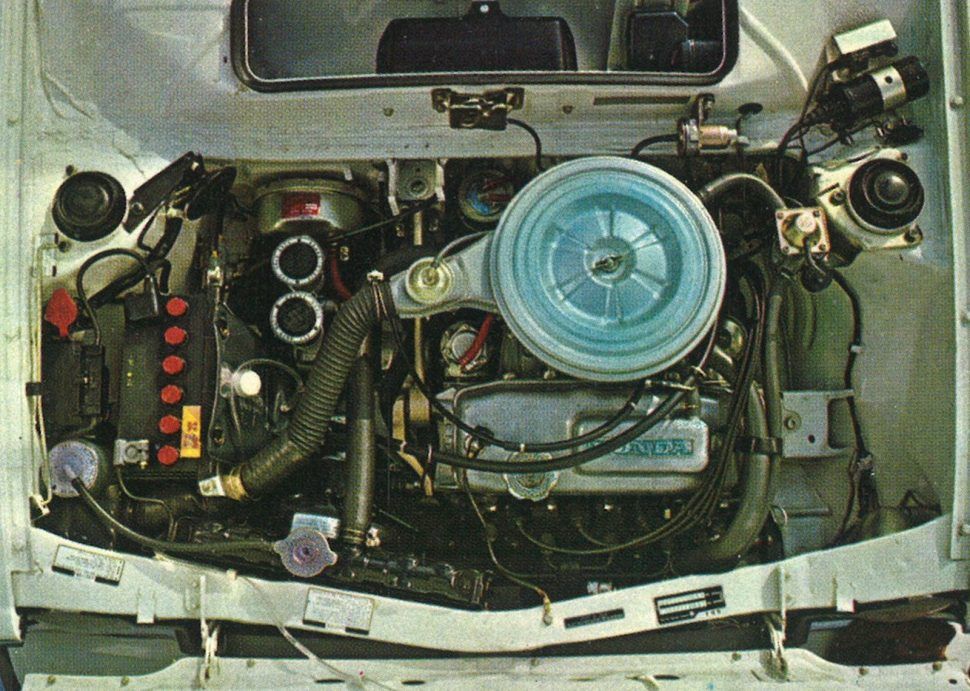 The 1500 CVCC model line, introduced after the 1975 model year had begun (hence the separate brochures seen here), was an industry game-changer, accomplishing what others said couldn't be done. It also came in two-door sedan and hatchback body styles, and this variant could be visually identified by its slightly longer, flatter, twin-scooped hood and correspondingly stretched fenders, those changes made to create room for this larger engine. The split-motif grille design was also altered, with a more prominent, eye-catching "H" in the center and a "CVCC" call-out on the driver's side.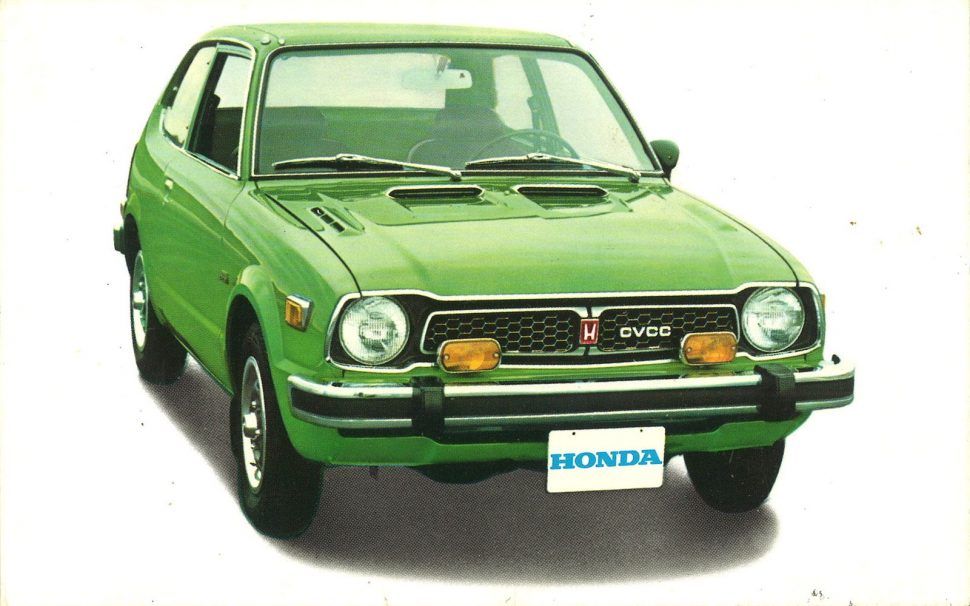 The CVCC advanced stratified charge engine design could meet California's strict emissions standards without needing a catalytic converter, air pump, or other smog equipment, and could likewise run on regular leaded, low-lead, or unleaded gasoline without complaint. Breathing through a three-barrel downdraft carburetor, this 1,488-cc SOHC four-cylinder made one more horsepower than the base 1200, but a useful 10 lb-ft more of torque; it helped drop the 0-60 mph time from 15.1 seconds to 13.8. The Hondamatic could still be fitted to this car, and three-pedal mileage remained good, with city/highway still reported in the high 20s/low 40s. A five-speed manual transmission was available with the CVCC engine, and selecting that also brought wider, 155SR12 radial tires.
Honda offered a number of dealer-installed accessories for the 1975 Civic lineup, and it spelled these out in a color flyer. As would be the case with Honda's cars up into the 1990s, air conditioning could be dealer (as well as factory)-installed.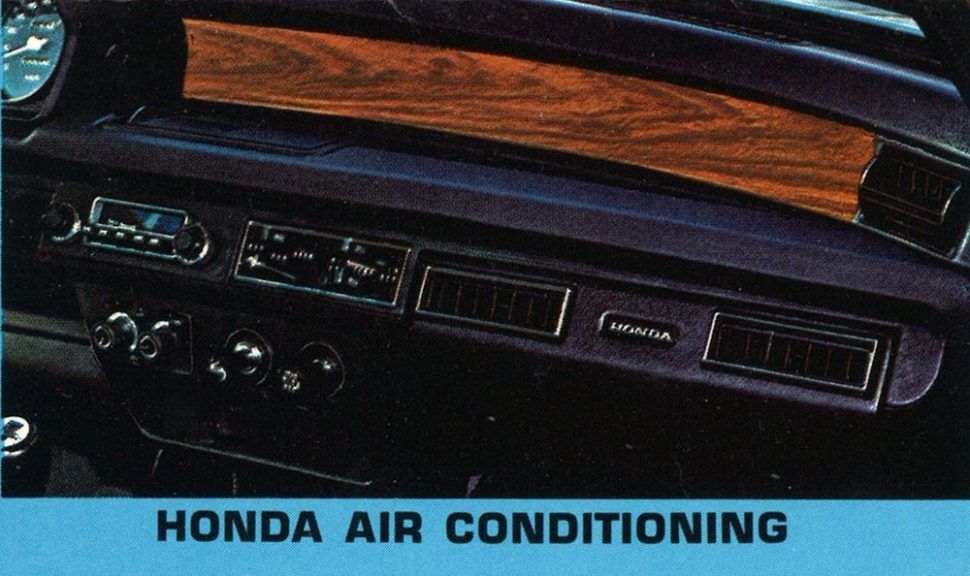 Other desirable accessories included larger-diameter steel or aluminum ("Mag Style") wheels and 155-13ZX radial tires, a choice of center consoles with stereos, and oh-so-Seventies stripe kits.
Have you ever driven a Civic of this era? If not, you may someday have the chance to pilot a fully electric Honda that takes its styling cues from the original Civic…
Click on the brochure images below to enlarge.