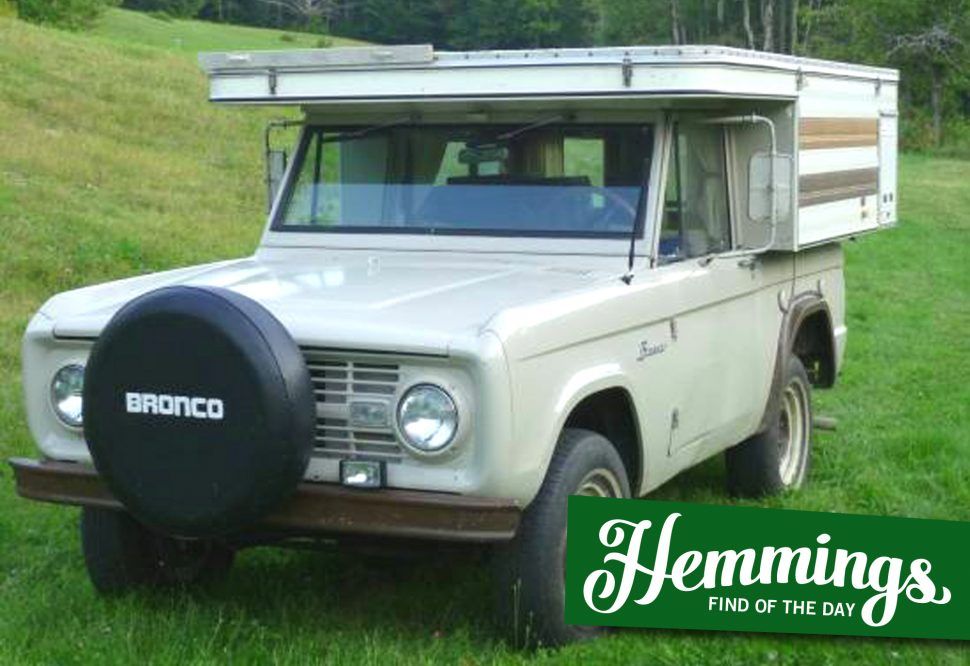 Hemmings Find of the Day: 1967 Ford Bronco with pop-up camper
Go-anywhere camping in vintage style, or use it as a decent starting point a restoration. It's a 1967 Ford Bronco with a pop-up camper for sale on Hemmings.com. From the seller's description:
1967 Ford Bronco, 163,000 mi.
Four Wheel Pop-Up Camper installed in Denver in 1978.
This is a very unique camper:
1st Generation Bronco (only 14,230 produced in 1967), with one of the first iconic Four Wheel Pop-Up campers.
My parents were the original owners of the Bronco, and had the pop-top camper installed for adventures around the southwest, and one family trip all the way to Alaska on the Alcan highway.
Bronco:
289 V8 Engine.
My dad completely overhauled the engine at 140k with pistons, rings, timing chain, hardened valve seats and valves, oil pump, hoses and belts and clutch. The cylinders were bored and the crankshaft turned.
The bronco has a manual transmission with a 3 speed column shift transmission and 2 speed transfer case.
It does not have power steering or brakes, but it is possible to upgrade to power if desired.
There are two gas tanks, for a total of 26 gallons.
The body is in excellent condition. The car has been painted at least once, possibly twice.
There is minimal rust; my dad kept the underside sprayed with LPS 3 which penetrates and stabilizes the surface.
Camper:
The pop-up camper sleeps 4. It has an upper bunk for 2, and a couch that folds into a bed. It has a 2 burner gas stove, ice box, and sink. The faucet for the sink was removed years ago because it was never used. The camper also has a table that can be set up for eating, and then stowed. There is also a furnace and a water tank.
One nice feature that you don't have with pop-ups on pick up trucks is that you can access the camper from the front seats, and vice-versa.
The bronco and camper were always housed indoors while in my parents' care. I inherited it two years ago, and unfortunately did not have the garage space to keep it inside. Therefore, there is now some water damage at the rear of the pop-up, which has made the replacement of the wood used to push the top up necessary. I have found a shop in CO that will replace the top if desired. I believe if you are a skilled wood worker you could fix this on your own.
Otherwise, the inside is extremely clean and in great, ready-to-use, condition.
Together:
The short wheelbase of the Bronco and the lightweight camper make this an ideal vehicle for backcountry getaways. It is my hope that there is an adventurous soul (or souls) out there who will want to take good care of this special vehicle, and will be able to take many more fantastic journeys in it.
[hftod ad_id="2291365″]
Find more Ford Broncos for sale on Hemmings.com