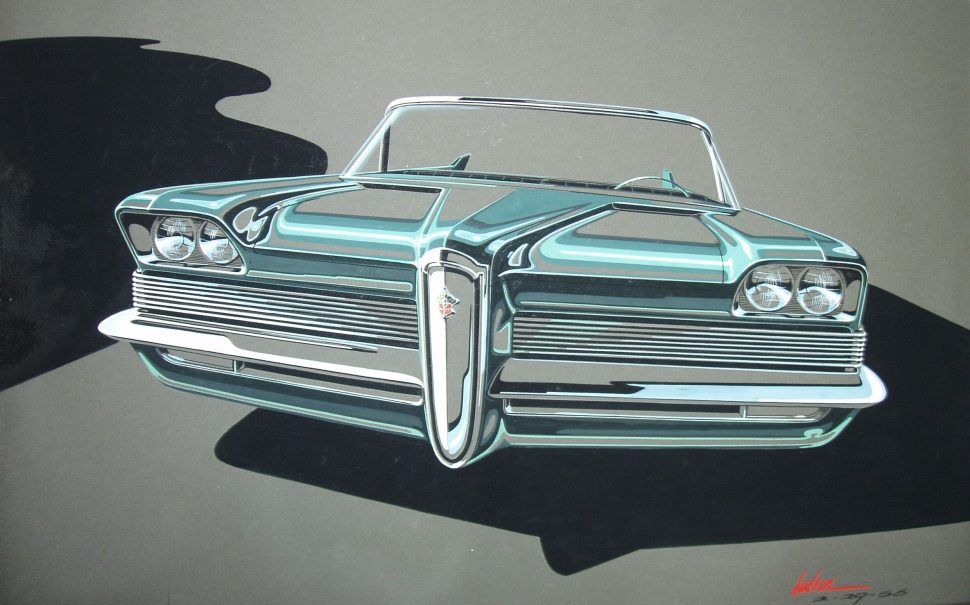 How Fred Hudson designed a Predictor-ified Packard future that never came to pass
In 1956, with the Studebaker-Packard merger complete and the new company looking to bolster the buying public's confidence in its ability to build and sell cars that the public wanted, company officials came up with a bold plan to build a show car and then base its ensuing lineup on that show car. While Dick Teague took on the first part of the plan, it fell to a young twentysomething designer named Fred Hudson to follow up with the second part.
Hudson, a fine arts graduate of Cornell University, landed his first major design job in 1954 with Packard, where he was assigned to the Clipper studio. His early designs from that assignment showed a fairly conservative approach to the Clipper's design trajectory – conservative for the Fifties, that is. He had a certain affection for symmetrical fore-and-aft design, as we see, and wasn't any less susceptible to the allure of chrome trim, fins, and cone-shaped taillamps.
But then, early in 1956, all that got thrown out the window. As Gerald Perschbacher wrote in the October 1978 issue of Special Interest Autos, the idea of a show car originated with Bill Schmidt, the director of styling for Studebaker-Packard. Schmidt, once he got approval from Packard President James Nance, assigned the project to Teague, then Packard's director of styling, and Dick McAdam, one of Teague's stylists.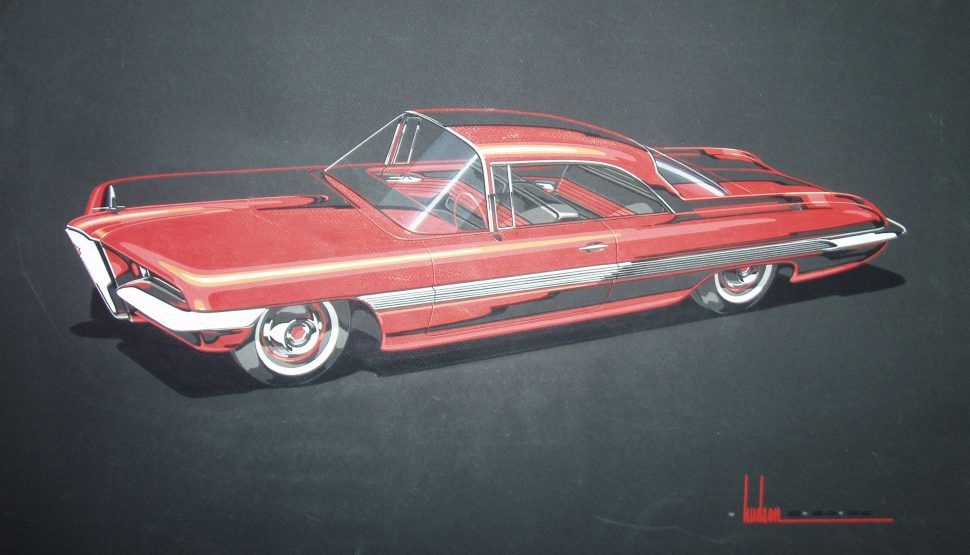 For the ensuing Predictor (or, as it was initially known, the Projector), Teague took the traditional Packard tombstone grille, which had over time widened and flattened along with contemporary grille design, and transformed it back into a narrow, upright design, albeit in solid chrome and flanked by wide grilles below the hideaway headlamps. Though Teague and his styling staff considered a number of body styles for the show car, they settled on a two-door hardtop with minimal chrome on the Clipper chassis. Ghia built it in 90 days, Creative Industries tidied up the wiring that caught fire, and it debuted at the Chicago Auto Show in January 1956.
The Predictor name came from Teague's, Nance's, and Schmidt's emphasis on using the show car to predict what styling trends would show up in future Packards (and thus, ultimately, to reduce doubt about Packard's future). The roll-top roof panels might not have been intended for production, Perschbacher wrote, but everything from the basic envelope form to the upright grille, taillamps, door handles, and even the reverse backlite were. "Within practical limitations, styling and engineering staffs were trying to incorporate as many Predictor features as possible into production models. The general personality of the showcar was to appear in '57 models."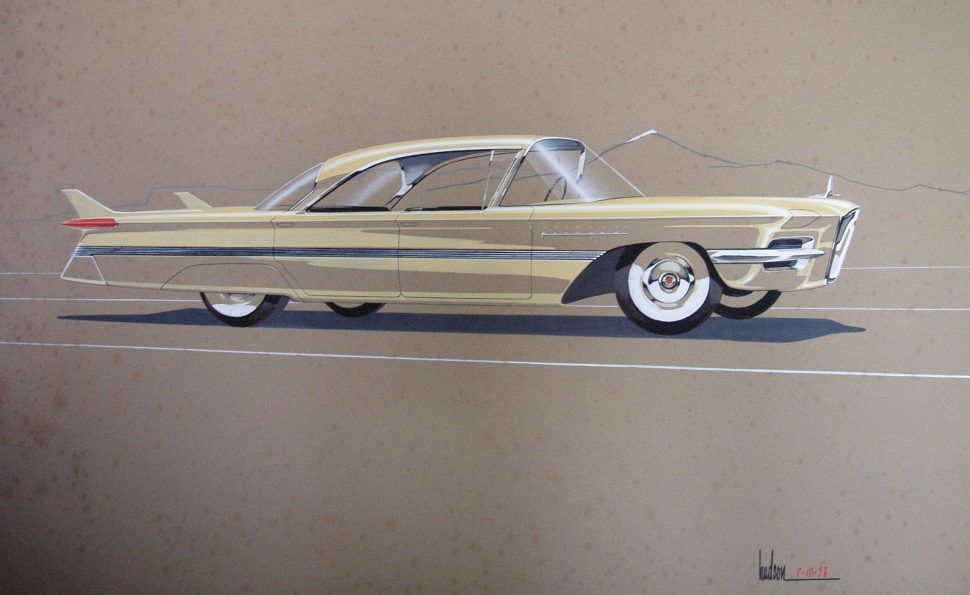 Nowhere is that more evident than in Hudson's renderings. Starting in February 1956, we see many elements of the Predictor – the upright grille, the short and sharp tailfins, the hidden headlamps, the body molding following from the front bumper – appear in Hudson's designs for far more bodystyles than the Predictor's two-door hardtop. Coupes shorn of the fins, convertibles, a four-door hardtop, even a four-door sedan all got the shiny shield version of the vertical grille.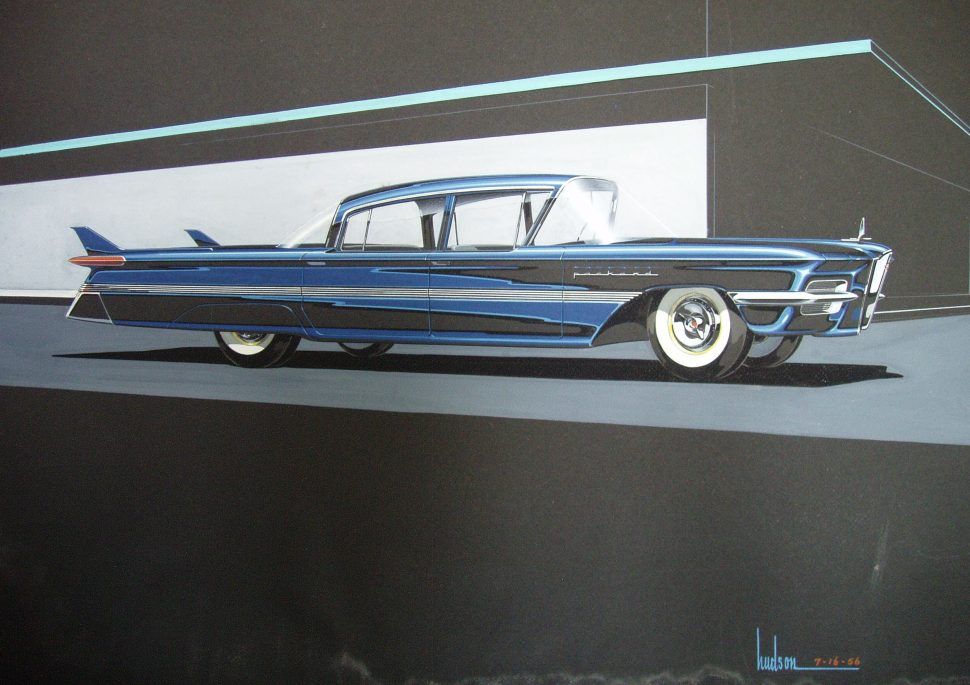 Then, late in the summer of 1956, despite the welcome reception to the Predictor, the Predictor-ified renderings stop. As Perschbacher pointed out, the Studebaker-Packard board of directors called a halt to Packard production in June 1956 and Curtiss-Wright, under its management contract with Studebaker-Packard, ordered all Packard properties sold in August 1956. Future Packards would end up sharing bodies with Studebakers, some of them with Duncan McRae-designed front clips.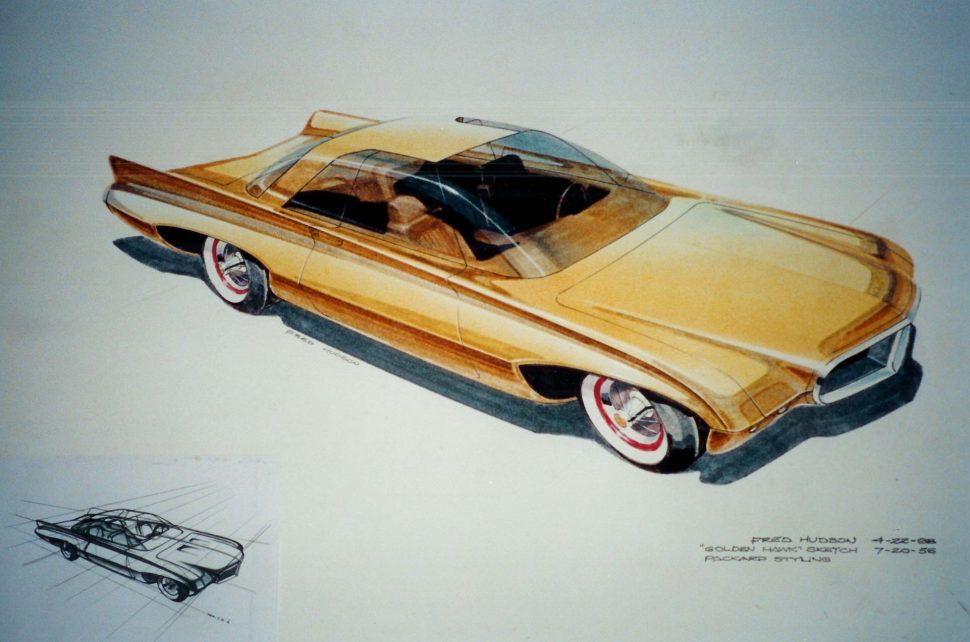 However, during this time, Hudson also sketched a few Studebaker Hawk renderings that, if you look close enough, incorporate some Predictor elements, most notably the hidden headlamps incorporated into the leading edge of the hood and the wrapover door glass and windshield.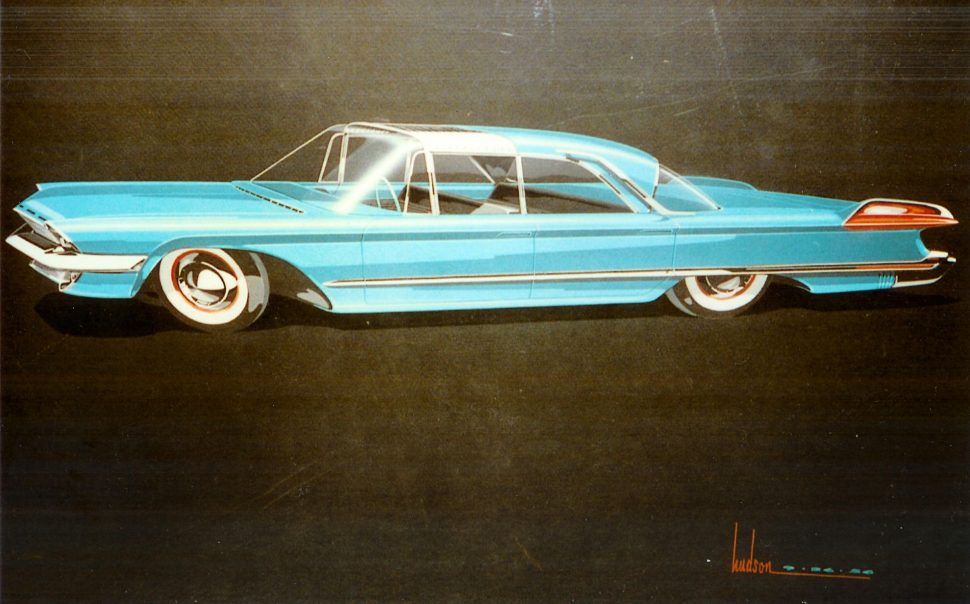 The last rendering of Hudson's for Studebaker-Packard that we see, dated September 1956, has the wrapover windshield of one of the Hawk renderings but little else from the Predictor project. It does, however, have some 1961 Dodge-like reverse fins – curious, considering that in late 1956 Hudson left Packard for a position with Chrysler, as assistant manager of the Imperial studio. He remained there until 1958.
Back in early 2006, as he was retiring from a career in design, Fred Hudson sent us these renderings – along with many more materials from later in his career, which we'll get to shortly – while telling us about the 1929 Packard 443 roadster he used to own. For some reason or another, we set the files aside and didn't touch them until a recent and long-overdue desk cleanse. Fred died in May 2010 at the age of 80.