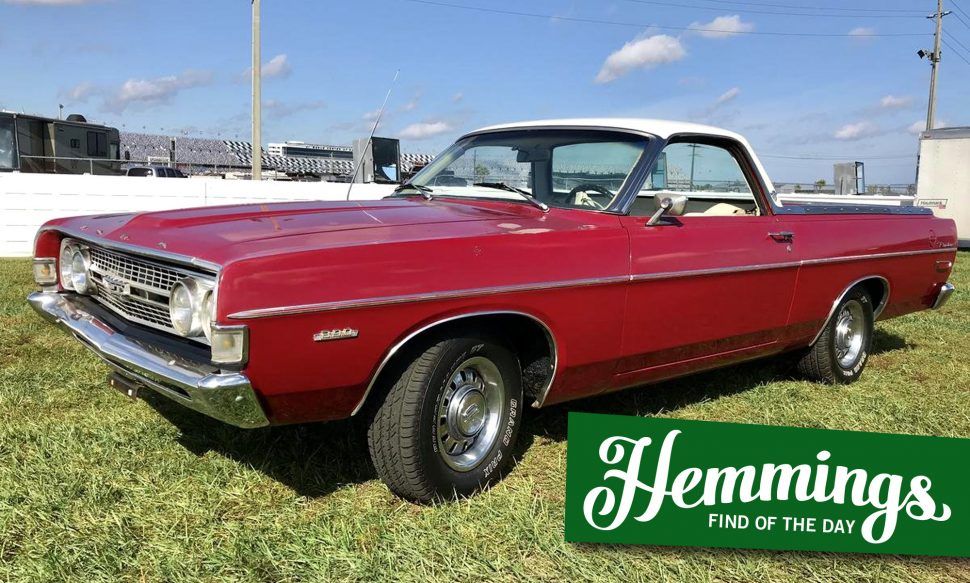 Hemmings Find of the Day: 1968 Ford Ranchero 500
Big block power, limited slip differential, and enough room in back to haul supplies for any weekend project. It's a 1968 Ford Ranchero for sale on Hemmings.com. From the seller's description:
1968 Ford Ranchero 500, original factory big block, power disc brakes, power steering, air conditioning, etc. and delivered new to California. Car is very solid with a very straight body, virtually no rust. Basically untouched and just as it came from Ford with the exception of one repaint in red (was originally Gulfstream Aqua blue) many, many years ago.
Per Marti Report from Ford records, car was built April 16, 1968 and was delivered to Auburn, California. Includes from factory:
390 FE motor
3.0 limited slip rear axle
C-6 Auto Transmission
power front disc brake package
heavy duty suspension package
tinted glass
SelectAire air conditioning
Many new upgrades over the recent past including complete front end rebuilt and alignment, tune up, carb rebuild, new brake lines, front and rear brake rebuild, new belts, hoses, new tires, new master cylinder, etc.
Tailgate, bed, bottom of doors are rust free and beautiful. Under carriage is original and not been cleaned or painted. You can see how solid this car is in the pictures with no patch panels found. Repaint was done a very long time ago and you can tell how solid the truck is with no "fresh" repairs that will pop up later. Paint is faded but still shines and has two areas where the paint has lifted off. One on the cowl and one on the top of the driver's side front fender. The car has a great patina look to it.
Interior is original with it's original White Parchment seat with black components, original carpet (slightly faded but no tears), door panels, headliner (beautiful), etc. No cracks in dash. Interior trim shows typical wear from 51 years of use but it's complete. Original seat has one small tear approx 1". Glass is good, no cracks or fogging, door rubber is tired. Bed of the truck has some dings but no rust, no big dents and shows it wasn't used hard. Bumpers are solid but have similar patina. Dual exhaust.
GT wheels and grill emblem. Was told it was ordered with many GT options but did not include the 4 barrel to avoid the higher insurance rates in 1968 of being an official GT car.
Truck was sent to the local restoration/mechanic shop to look over once again before listing for sale. He found nothing wrong other than the typical FE motor exhaust manifold gasket leak on passenger side. Car runs and drives great.
Drive "as is" or would be a very easy restoration candidate with little work needed before repainting. Please feel free to call or write with questions, to arrange an inspection or test drive. Happy to work with long distance buyers in working with shipping.
Price
$12,500
Location
Brevard, North Carolina
Availability
Find more Fords for sale on Hemmings.com.