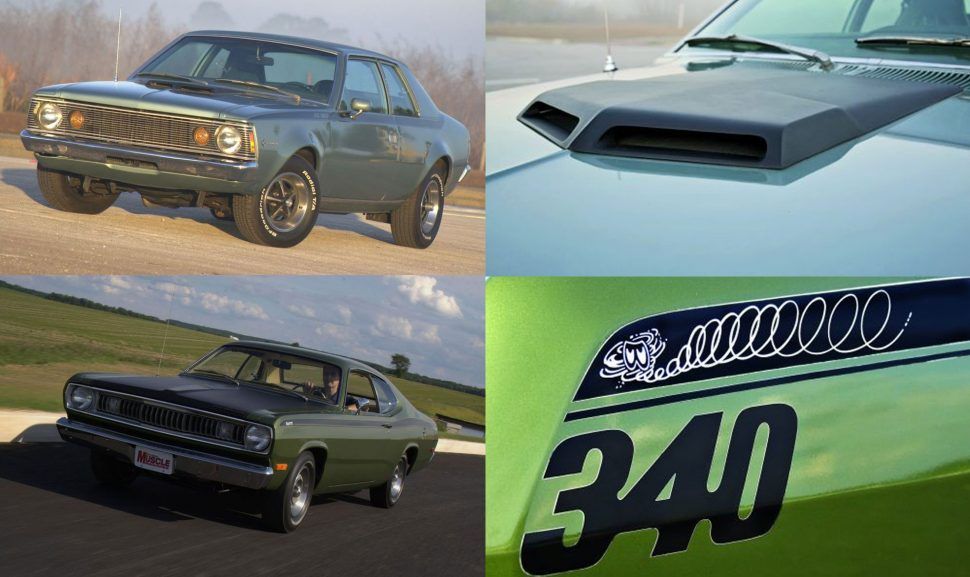 This or That: 1971 AMC Hornet SC/360 or 1972 Plymouth Duster 340?
This or That shifts into a different gear this week with a couple of spritely small-block performance cars from the early Seventies: a 1971 AMC Hornet SC/360 and a 1972 Plymouth Duster 340. Both of these compact conquistadors were previously featured in our Hemmings Muscle Machines magazine as respective Buyer's Guides.
[Editor's comment: Please note that the This or That column is not a comparison report between two or more vehicles (in the original spirit of the Hemmings Special Interest Autos/Hemmings Classic Car/Hemmings Muscle Machines articles), but rather a feature that enables us, in an idyllic world, to add a collectible vehicle into our dream garage on a regular basis — with a catch: We can only pick one vehicle from this group, and it has to be for enjoyment purposes rather than as an investment. So let's climb into the ultimate automotive fantasy time machine and have a little fun.]
American Motors already had a few thoroughbreds in the great American horsepower race – from the first-gen AMX to the SC/Rambler, and a couple of Trans-Am inspired specials – by the time government emission regulations and escalating insurance premiums began to constrict its coils around the muscle car market at the dawn of the Seventies. To combat the latter, Kenosha dove into the parts bins and conjured up the Hornet SC/360: a limited run (just 784 were built) of specially-prepared hi-po Hornets. Its base price was set at $2,663 (or $16,810 today), helping AMC take a direct swing at anti-fun antagonists via the new model's ad tagline: "Introducing a sensible alternative to the money-squeezing, insurance-strangling muscle cars of America."
While extensive details about the Hornet SC/360 were outlined in the original feature (click on the link above), let's quickly paraphrase the go-fast DNA, beginning with its namesake: the 360-cu.in. engine under its hood. There were two, actually, the base version being a two-barrel fed block that was rated for 245 gross horsepower, which could have been backed by either the standard three-speed manual or optional automatic. The upgraded 360 was one fitted with a four-barrel that touted 285 hp (gross). Again, the three-speed manual was standard, and the automatic was optional, but the high output 360 could also be had with a four-speed manual as well. Completing the transfer of torque was AMC's Model 20 open differential; Twin-Grip was optional.
Visually, the Hornet SC/360 was delivered with side stripes (in black, white or red) and a reflective plastic red tail panel, along with a few unique emblems. One could be forgiven for thinking the matte black hood scoop was standard – it was, in fact, part of the optional Ram Air package. The also optional Go Package automatically included the Ram Air system.
Tipping the scales at roughly 3,300 pounds, the Hornet SC/360 could easily dip into the 14s after some fine tuning. In stock form, the staff at Motor Trend pushed a 285-horse example from 0-60 mph in 6.7 seconds, while clicking off a quarter-mile E.T. of 15.0 seconds @ 94 mph in the January 1971 issue. If that sounds slow, consider that the buff mag staff tested a same-year LT-1 Camaro Z28 in the October, 1970 issue that resulted in an E.T. of 15.4 @ 90 mph; and a 270-hp Nova SS to an E.T. of 15.92 @ 87.63 (January, 1971).
Chrysler's Dodge and Plymouth divisions, meanwhile, had ample practice stuffing big engines into small cars. Respected types, such as the Dart GT / GTS and Plymouth 383 'Cuda. Mother Mopar had plans for the 'Cuda beyond 1969, though, and not one spec of it had anything to do with its compact origins. To fill the A-body budget-muscle void, Plymouth created the Duster 340. It sold so well during its freshman year, division brass cast it from its Valiant-badged trim upgrade origins to its own model line in 1971.
Like the AMC, the Duster 340's namesake was derived – in part – from the 340-cu.in. small block below the hood. In '71, the four-barrel-topped-V-8 was listed as having a 10.3:1 compression ratio that helped create 275 gross horsepower, which equated to a 235 net HP rating per factory literature (in advance of the switch from gross to net ratings for '72, many manufactures advertised both output figures). The engine was accompanied by a three-speed manual in base configuration, which could have been swapped for a TorqueFlite automatic or four-speed manual. Chrysler's heavy-duty 8 3/4 differential (with or without Sure Grip) completed the power transfer to the rear wheel(s).
This basic configuration and option arrangement carried over to our featured 3,100-pound 1972 edition, which cost 15,681 buyers $2,728 (or $16,675 today) excluding options and fees. It came with a catch, though, in that government mandates finally caught up with the 340. Compression was reduced to 8.5:1, and coupled with subtle changes within the engine itself (as outlined in the original feature, click on the link above) and the full adaptation of net power ratings, the small-block suddenly made 240 hp. While it certainly wasn't as attractive as the 275 horses gearheads saw on stat sheets a year prior, the net power rating was virtually a wash. The real difference, of course, was torque output. Gross and net torque for 1971 was 340/310 respectively, whereas for '72 it dropped to 290-lb.ft. in the conversion to net figures.
By now, road test buff mags were shifting focus, much like the buying public, and as a result neither the Plymouth Duster 340, or its corporate twin, Dodge's Demon 340, saw track time in 1972. However, Motor Trend did test a '71 version of the Demon 340 in that same January, 1971 issue, which resulted in a quarter-mile E.T. of 14.49 seconds @ 98.25 mph, with a 0-60 mph time of 6.5 seconds. Comparing trap speeds from one year to the next among various makes that suffered the same compression fate, it's not unreasonable to think that the '72 Duster 340's elapsed time would remain within one second of the '71 test results.
We could ceaselessly hypothesize about trap speeds, compression ratios and emission regulations during the epic '71/'72 power shift (see what we did there?), but the debate still won't alter the changes that befell the industry and gearheads alike, or which you would choose and why.