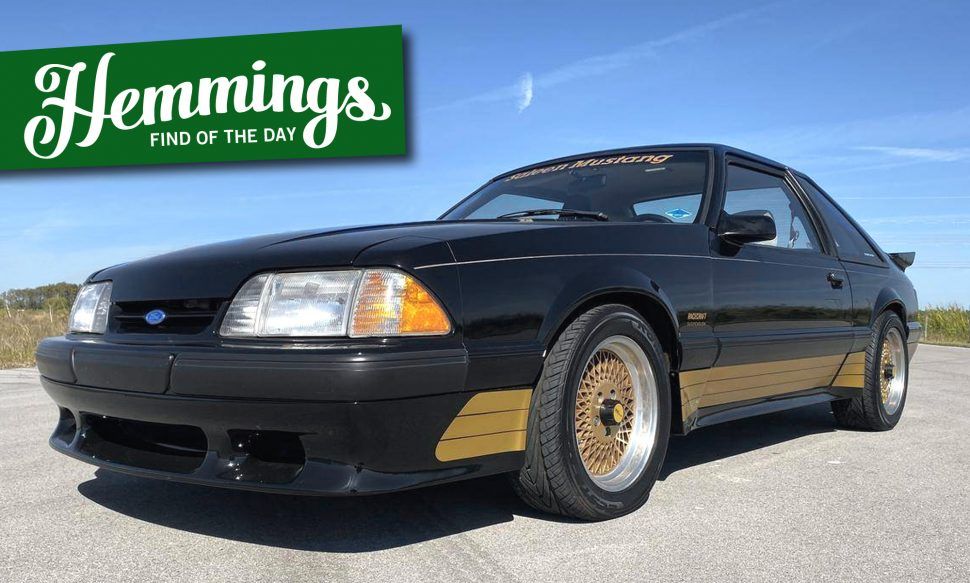 Hemmings Find of the Day: 1988 Saleen Mustang
Documented 1988 Saleen Mustang for sale on Hemmings.com. From the seller's description:
The car started its journey at FORD, where it was built as a Black with Sand Beige LX 5.0 Coupe equipped with the following options:
CUSTOM EQUIPMENT GROUP
*Air Conditioning
*Dual Illuminated Visor Mirrors
*Tilt Steering Wheel
*Power Side Windows
5.0 EFI HO V-8 ENGINE PACKAGE
AUTOMATIC OVERDRIVE TRANSMISSION
REAR WINDOW DEFROSTER
AM/FM STEREO DELETE CREDIT
DUAL ELECTRIC REMOTE MIRRORS
POWER LOCK GROUP
Total MSRP at the time was $13,507.00, and the window sticker shows that it was SOLD to Southwest FORD in Parma, OH, but SHIPPED to SALEEN Auto Sport in Brea, CA.
At SALEEN, the car received the full treatment, including the Signature Racecraft suspension with Hybrid MacPherson Struts, Monroe Formula GP gas inserts with specific springs, specific lower control arms, Stabilizer Bar with urethane bushings, Strut tower brace, and a Racecraft calibrated geometry up front.
In the rear, a Four Bar Link system with specific coil springs, Stabilizer bar, Quadra shock system with vertical Monroe Formula GP gas shocks and Monroe horizontal Axle Dampeners was installed.
American Racing/SALEEN specific alloy wheels size 16×7 and 16×8 were installed.
SVO 4-wheel disc brakes were installed, along with the SALEEN AutoSport rear wing, side skirts, front air dam, and rear valence.
170MPH SALEEN speedometer was fit to the car, along with an electronic SALEEN tachometer, specific MOMO Steering Wheel, and SALEEN FloFit Sport Seats with lumbar support and matching rear seat and door panels.
A complete PIONEER custom audio system was installed, featuring AM/FM Cassette with 6 speakers, 80 watts of power, 4 channels, and a matching PIONEER Graphic Equalizer.
Left side driver footrest, SALEEN graphics package, SALEEN dash emblem, and serialized console plaque and engine compartment ID rounded things out, and it was ready to make the trip to its final dealership location back in Ohio with a $7,680.00 invoice from SALEEN.
The car was used as a showroom display and kept by the dealer as an example to sell off, amassing a little over 500 miles while in the stores care.
The first owner found the car via SALEEN, and fax's, hand-written letters, and Polaroid photos were exchanged between the dealership and the prospective buyer who was all the way in Portland, OR!
Finally an agreement was reached, and financing, paperwork, and shipping documents were exchanged (again, via snail mail), and the car was sold to its first owner on 03/29/1990.
All the Fax's, messages, original purchase order, odometer statement, hand-written notes between client and dealer, the 3 Polaroid photos, and more are included in the sale.
Original warranty cards, laminated window sticker, SALEEN portfolio envelope, Stereo and EQ manuals, FORMULA GP brochure, original TEMP TAG registration, wheel lock, and bottle of touch up paint are included as well, along with two complete sets of keys.
A few service receipts are included, one showing the mileage on 08/17/2002 at 18,790, then at 18,877 on 09/04/2007.
It was sold on 05/21/2012 to a new owner in Vancouver, WA, where the Vancouver DMV listed the odometer as EXEMPT due to the vehicles age. CarFax and AutoCheck both align on dates, and the limited receipts and documentation I have since then show a valid mileage track, but the title current title is EXEMPT.
If you are car savvy at all, you can tell from reviewing, driving, and inspecting a cars condition and handling if it is indeed a low mileage car, and this one feels and looks the part of its 23k mile odometer in every single way. From the chassis to the engine bay, carpet to the headliner, and all points in between, the car literally TELLS you it is a low mile original example.
The exterior of the car shows wonderfully, and there are only about a dozen or so minor blemishes like stone chips and hairline scuffs from normal use to be found on it.
Front and rear fascia and rear wing have NOT discolored compared to the body of the car, and everything is glossy, slick, and free of fading and issues.
The roof was repainted by the 2nd owner in May of 2014 due to debris from the highway glancing off of it on while on a rare drive in the car. It has been repaired to a high standard, but you will note upon inspection that there are a couple of blemishes near the masked edges if you look close enough. The color match is perfect, and 95% of people would never notice it was refinished, but our paint meter told us it was, so closer inspection revealed what the paperwork substantiated.
Glass is perfect, with no issues, cracks, or chips to be found.
Seals and weatherstrip show like new.
Exterior trim is in excellent condition.
All badging, logos, striping, and trim on the outside is in exceptionally good shape.
Headlamps, tail lamps, signals, and back-up lights all work and look perfectly.
Wipers work perfectly, as do the washers.
Wheels are in very good condition, with hardly a mark evident between the 4 rims.
Hatch struts are in perfect shape, and don't sag or lose strength.
Doors and hood all open and close with perfect fit, and exceptional gaps.
Overall, the exterior of the car would be considered a solid 9 out of 10 in presentation, with only a few minor blemishes to speak of.
Inside, the interior is like a time capsule from 1988. Carpeting is like new. Seats are like new. Door panels, kick panels, rear panels and pillar covers are like new. The rear hatch cover shows and works perfectly.
Dash is clean and undamaged except for a small mark that we cannot identify. It almost looks like nail polish, but our cleaners in our modest collection of detailing supplies wouldn't remove it.
Gauge cluster is like new, stereo and EQ looks and performs like new. All speakers work as they should.
Center controls for heat and air work as they should, and the car blows cold air and hot heat.
Center console and ashtray covers are perfect and correctly attached.
There is no odor in the car and no signs that it was ever smoked in or had a pet inside it.
Rear hatch area is clean and neat, with no issues or damage.
Under the hood, everything is clean, neat, and just as it left SALEEN. Save for maintenance items, the car has been untouched and unmodified since new. We have NOT pressure washed and coated the engine with silicone sprays. We have left it just the way we got the car, including dust and some light road grime.
Chassis is clean, neat, and shows only dirt and road grime from being driven. It is a pressure wash away from looking even better.
The car starts, runs, drives, handles, and stops incredibly well, and 1 minute behind the wheel with assure you that the 23k miles is accurate.
Power is smooth and solid, and the transmission glides through each gear with ease.
Braking is spot on, and the car stops without any odd pulling, wander, fade, or issue.
There are no odd tendencies or issues when driving, and the car has been stored on a lift with the wheels suspended to avoid flat spots.
Handling is quite good, and the car feels quite modern, given its 31 years of age.
We have put about 60 miles on the car in a mix of city and highway driving, and it feels like a new car in all respects. I would not hesitate to fly in and drive it home anywhere in the Continental United States.
The car comes to you with a bevy of receipts and paperwork as noted, two complete sets of keys, and all the items shown on the car. It does NOT have an antenna mast, although I am trying to source one to screw on that is proper for the car. T comes with the original owner manual from FORD as well, and the aforementioned wheel lock key and touch-up paint.
Price
$28,585
Location
Fort Myers, Florida
Availability
See more Ford Mustangs for sale on Hemmings.com.