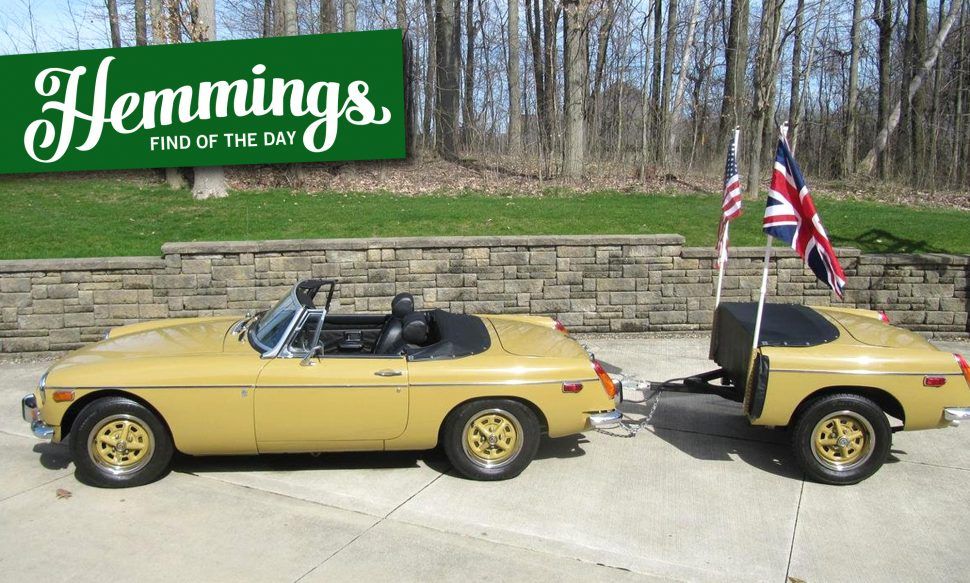 Hemmings Find of the Day: 1973 MG B with matching trailer
It's a 1973 MG B for sale on Hemmings.com with an extra half of an MG B thrown in! From the seller's description:
This is my oldest child! Never driven in snow or bad weather. (Did get caught in the rain a few times). I bought this from the original owner years ago and have taken care of her for the last 34 years. Always stored in a safe garage. I have driven this to many MG conventions and rallye's. I installed seat belts in the back so that one of my kids could always come with us as we drove in the sunshine. Seat belts are still there but haven't been used for over 17 years. (Kids are too grown). This car is in very good shape and has been properly taken care of mechanically. We added overdrive to the transmission which makes a world of difference when driving in fourth gear. She has fiberglass front fenders which were installed before I bought it. There is a newer Petronics electronic ignition and brake hoses. She also sports a stainless steel exhaust system. We always kid that this is most reliable car as she starts all the time and drives wonderfully. This car has proudly been a member of the Emerald Necklace MG Register and has been involved in many tech sessions including working on the wiring, rebuilding the front end and general storage hints. Has 68,600 miles on the odometer. Comes with the British Motor Industry Heritage Trust Certificate.
In 2006 we took an MG that had been wrecked in the front and turned into a trailer with the same color scheme. What a great extra storage this has been! The trailer is so well balanced that you can pick up the tongue with one finger! This trails the car with no bouncing or swaying. Recently I have been using it for parades as it is equipped with two removable flag poles proudly displaying the American flags for the Fourth of July and one American and one British flag for MG events. It is equipped with two speakers that hook up to the car when parked for extra sound! The custom built covering in the front removes for extra storage or in the case of a parade a bench seat for seating. The hook-ups are simple for the electrical brake lights and blinkers. I had the hook for the car imported in from the U.K. and installed for a flawless and safe hitch. This is certainly one of a kind trailer. Because the trailer was built for this car they go as a pair.
Why am I selling? My father told me not to get attached to material items, but I have to say this is about as close as it gets to feeling really bad when I see it go to a new owner. My garage is full and we are getting a bit older for the manual roof and besides we have another MG. We simply find ourselves just not driving it enough. I guess all good things come to an end!
Price
$15,500
Location
Akron, Ohio
Availability
Find more MGs for sale on Hemmings.com