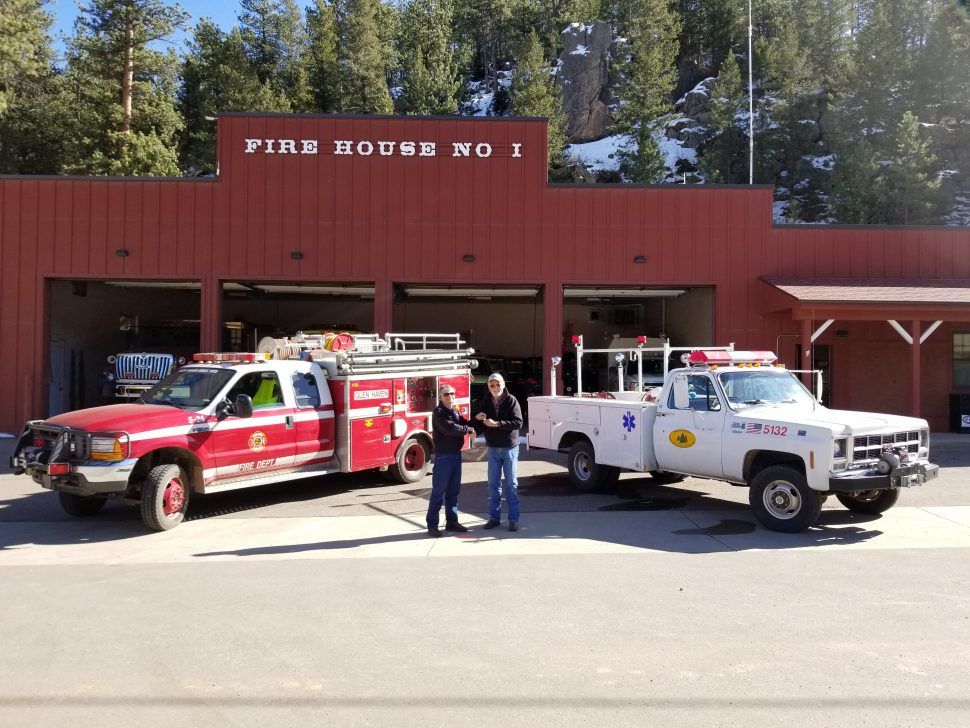 This brush truck from Hemmings Auctions helped a volunteer fire department upgrade its equipment
Thanksgiving might already be gone, but we've got some extra thanks from November worth sharing.
Selling a vintage vehicle or collector car is an emotional enterprise for most people. You always want your car to go to a good home and at a good price, of course. But what about when it's a fire department unloading an old piece of equipment? A self-funded fire department at that, one that depends on fundraisers and the occasional, elusive grant? Guess what? They like to see their old trucks go to good homes, too.
A few weeks back, the Glen Haven Area Volunteer Fire Department, an entirely self-funded house in a rural area of Colorado not far from Estes Park and Rocky Mountain National Park, offered a unique old GMC brush truck on Hemmings Auctions in an effort to raise money for a newer truck. Newer, mind you, not new.
A heavy-duty 1980 GMC K35, the specially equipped truck was rigged for work, equipped with a 350 V-8, a four-speed manual with multiple PTO provisions, a beefy Warn winch, pumping equipment, utility box cabinets, all the emergency lighting you'd expect of such a vehicle, and so much more. Previously in the employ of the nearby Pinewood Springs Fire Protection District, the K35 had served its purpose for a couple of years with Glen Haven, which needed a newer pumper truck. Glen Haven didn't even bother with putting new decals for their house on the GMC's doors—that's a luxury normally afforded better-funded houses.
Another nearby department, the Allenspark Fire Protection District, received a grant for a new brush truck, so was able to offer their old pumper truck to Glen Haven. Hardly a new vehicle, the 1999 Ford F450-based mini-pumper has just 15,000 miles on it, but is a far more capable and well-equipped machine than the old GMC. The Ford has removable seat backs that allows geared-up first responders to drive without having to remove air packs, has a built-in water supply that holds up to 500 gallons and can throw water at 500 gallons per minute through 2.5-inch hose at full flow. The truck is also equipped with an on-board generator, a booster hose for wildland fires, plus additional equipment for firefighting and rescues.
Allenspark, whose team often trains with the crew from Glen Haven, offered their brothers- and sisters-in-arms a fair deal on the '99 Ford. But at $15,000, Glen Haven had to come up with a way to pay for it. They sold some gear, including an old Dodge truck, but were still $7,500 shy of the price, so they dipped into their savings. As a team that is used to using hand-me-down equipment, the Glen Haven department only spent this money as a carefully measured move that meant possibly delaying the purchase of other, needed gear.
This rural department relies on community fundraising for operating and capital funds, so spending new truck levels of money is a big deal. Volunteer firefighter and board vice president Linda Lambert was handed the task of replenishing the savings account. Linda shares, "The board said, 'Do some fundraisers. Find out what you can sell.' So, we sold a couple of things." With still plenty to make up for, Linda and the board decided it was time to sell the old truck. "To be frank," she says, "we were tired of keeping it in the fleet and not using it." In addition to being somewhat out of date, the K35 was also the last gasoline-fueled vehicle in the fleet. Everything else at Glen Haven runs on diesel, including the '99 Ford. Having to rely solely on one type of fuel helps the house operate more efficiently.
Linda turned to Hemmings Auctions to find a new home for the truck. A GMC, even one as well equipped as this one, is far from a typical collector car, and we had a pretty hard time coming up with a value to place a reserve on the truck before opening it to bidding. There just aren't a whole lot of comps for 40-year-old, super-low-mileage brush trucks. So, Linda and her department agreed to run the truck as a no-reserve auction, with the proceeds of the sale going entirely to the Glen Haven Area Volunteer Fire Department.
As luck would have it, the lack of reserve wasn't a problem. With about a day and a half to go, bidding had all but reached the $7,500 that the department had taken out of its savings to purchase the new mini-pumper. But during the last 20 hours of the auction, the bids kept coming—14 additional bids in total—until it reached a hammer price of $15,100.
It turns out that the winning bidder, Robert Warner, who goes by the handle of "Wrancher"—and is a legit, life-long Colorado rancher, was relatively local. He came by the department personally, check in hand, to pick up his new truck. Born on the same Colorado ranch he still lives on today, Robert has plans to keep using the GMC as part of his calf and beef operations. The GMC is doing what trucks do and is being put back to work.
In early November, Robert picked up his truck directly from the department and drove it home. But before he could leave, Chief Kevin Zagorda and the team gave him a tour of the house, showed him the newer Ford truck that his purchase helped make possible, and even sent Robert on his way with a set of expired firefighter turnouts that were no longer in service. Linda was more than happy to tell us that "Robert and his friends say they are coming to our pancake breakfast next year because they are big supporters of stuff like that. They even put it in their calendars."
Like you, we at Hemmings love cars. We love to drive them, play with them, work on them, and we even enjoy watching our auctions as the bidding heats up. But there is something humbling about being part of this sale that matters less what vehicle was involved, even if it's central to the story. On the grand scale of things, it's just a $15,100 used truck, but to the Glen Haven Area Volunteer Fire Department it's so much more.
The Glen Haven board used the proceeds from the sale to replace the funds withdrawn to purchase the '99 Ford, and spent additional funds on such necessities as Gatorade (fighting fires and handling calls in full turnout gear makes for sweaty firefighters!), fuel, maintenance items, and other basic costs. With expenses for personal safety gear, sending volunteers to training, transmission service on other apparatus, and other items on its list, Glen Haven is now better equipped to handle its operations until that next fundraiser comes along. They even had enough spare cash to rebadge their new pumper truck.
Linda Lambert shares how she and the rest of the team at Glen Haven feel: "I wish I could express how much this means to our department. It didn't register until chief said it to me the other day, but to put it in perspective, this was a second pancake breakfast because the sale price is what we bring in on average. We live by a mix of preparation, luck, and miracles." We at Hemmings were just as proud to be part of this sale and we tip our hat to Wrancher and all of the other bidders for making this miracle happen for Glen Haven.