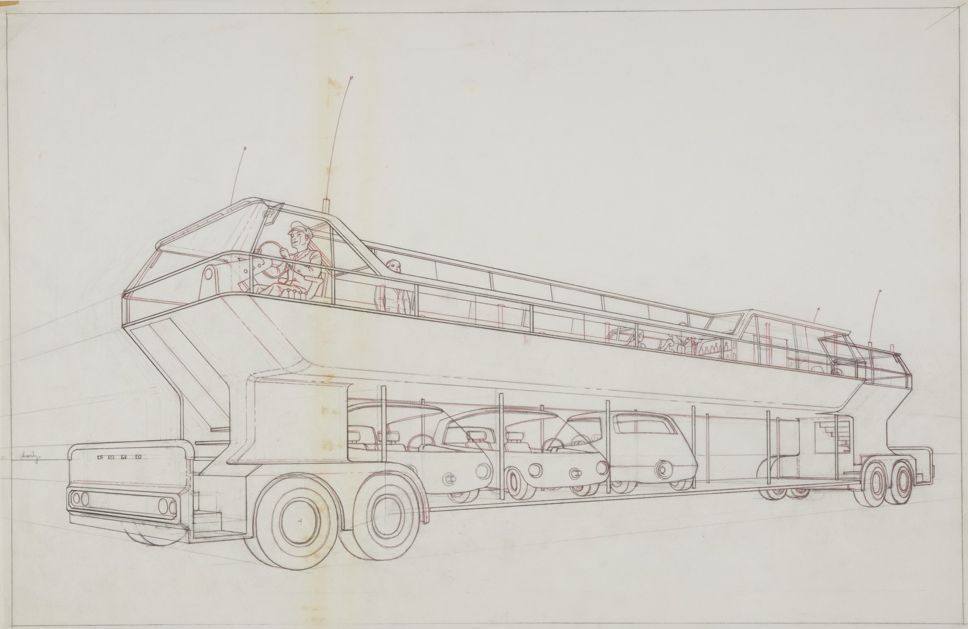 Ford's 1966 plan for city congestion: little cars that fit in huge buses
The coming of age for the boomer generation in the mid-Sixties might have meant sales success stories like the Ford Mustang. But with all those freshly minted drivers on the road, it also meant more cars on the road, and thus more traffic. To combat that anticipated traffic, a one-time Tucker designer pitched Ford on a unique auto-bus combination as part of an ambitious urban planning scheme.
When it came to automobiles, George S. Lawson "was very willing to try something different," according to friend and fellow designer Victor Froelich, quoted in Michael Lamm's profile on Lawson in the March-April 1978 issue of Special Interest Autos. His contemporaries – among them Bill Mitchell, Virgil Exner, and Alex Tremulis – lauded his skills as a designer, artist, and innovator as well as his ability to render designs that work well in three-dimensional sheetmetal.
Though his auto design career began in 1935 at GM (to which he'd return at least a couple times), Lawson also spent time at Briggs, as head of experimental design at American Motors, and for a short time as Preston Tucker's initial designer for the Tucker Torpedo. But, like many other gifted auto designers (particularly those assigned to advanced styling), he didn't fit well into corporate culture and eventually struck out on his own as a freelance designer to pursue his own visions of a radically redesigned future.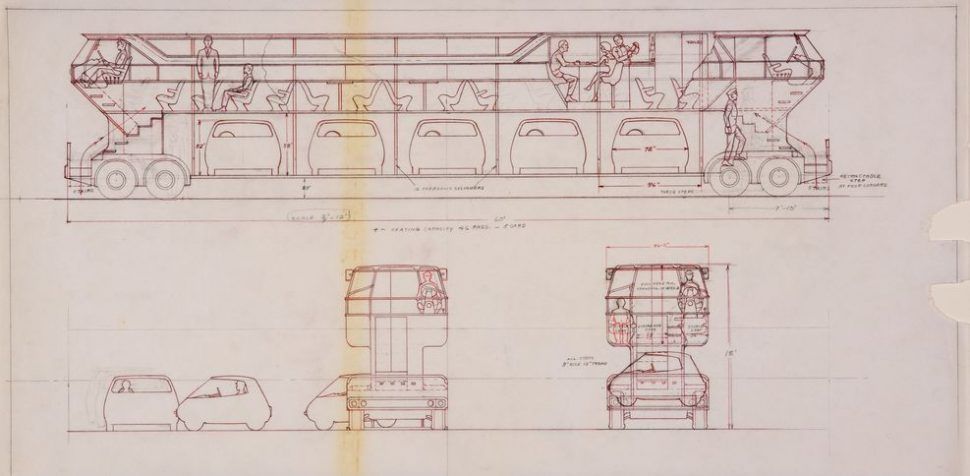 In 1966, in this stage of his career, Lawson landed a contract with Ford via Al Mueller, a fellow Cleveland Institute of Arts alum. It's unclear what objective Mueller had in mind when he hired Lawson (perhaps to counter GM's vision for standardized container transport, as showcased with the Bison at the 1964 World's Fair?), but the end result has to be one of the most ambitious examples of urban planning to come out of the auto industry – itself the prime driver for many urban planning designs.
Lawson's concept actually begins with his Hub Cities proposal, which would restructure the country's urban environment by stringing a network of planned cities across the country "to create better living through less densely-populated cities and safer, more efficient transportation," according to a description by Cooper Hewitt, Smithsonian's Design Museum.
Lawson's utopian vision of better city living required a network of Hub Cities to be built across the country, each accommodating 50,000 residents and their sites of employment. For the ease of construction, Hub Cities would feature mass-produced and pre-fabricated buildings that could be implemented in a similar plan in a range of geographic sites. A building at the city's center would house all utility and service offices, commercial retailers, and business offices. Perhaps most importantly, the central building would also house a parking lot for private cars and a marshalling yard for all subsurface transportation equipment.
To prevent traffic from bogging down the Hub Cities with congestion, he envisioned placing industrial areas at the peripheries of the cities to keep trucks and other large vehicles off the city streets. But people still needed to get around within the cities, he reasoned, so he designed the Mini-Max car system.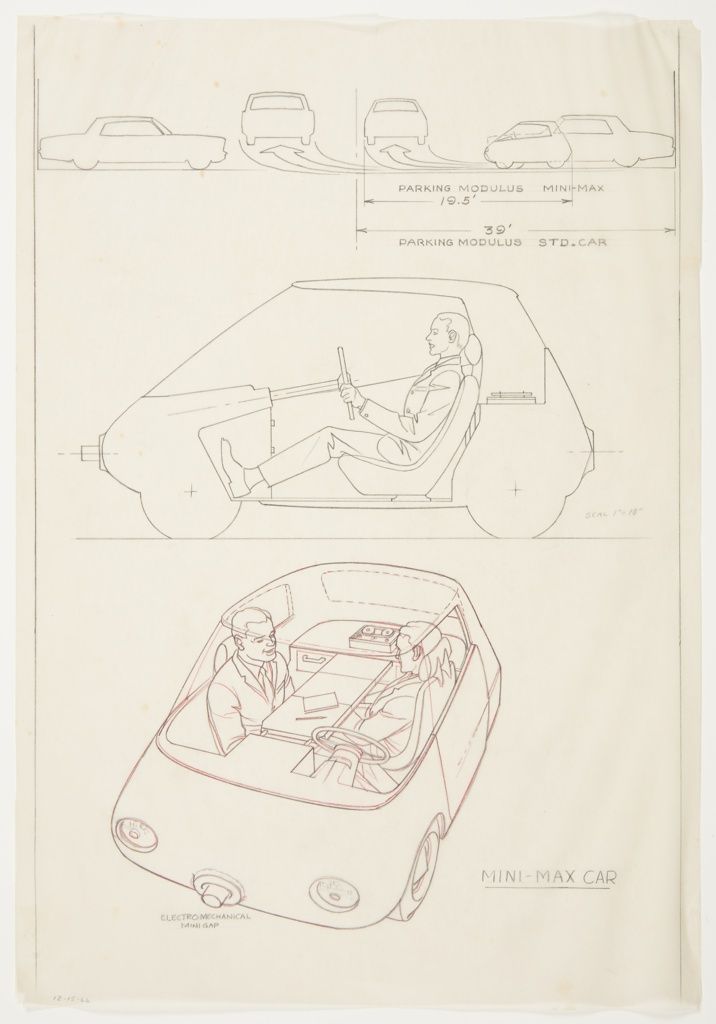 In such a system, Lawson expected that residents would use communally owned small two-seat commuter cars as runabouts and leave them on the street when they were done with the cars, much like the Dutch Witkar of the Seventies and Eighties and the micro-mobility scooters deployed in cities around the world over the last few years. However, Lawson – perhaps correctly predicting the unequal distribution of the cars around the cities or the way people are prone to discard such intentionally ephemeral things just anywhere – also designed a double-decker bus that would travel the cities, rounding up the Mini-Max cars for return to the city centers on the lower deck and the commuters in seats and small conference rooms on the upper deck.
Drivers of the 46-passenger, 5-car capacity bus, in Lawson's design, could operate it from either end – pretty important, considering the bus stretched 60 feet from end to end, about 20 feet longer than a Greyhound Scenicruiser. What exactly Lawson intended to use to power the bus or the Mini-Max, he didn't specify (the apparatus on the nose of the cars suggests a docking/charging port of some kind), but he did make sure to put big F-O-R-D lettering on both ends of the bus.
The Hub Cities idea – which also included such innovations as radar-based cruise control, an innovation Jim Street had already worked up for the Golden Sahara nearly a decade prior – might have been ambitious, but it wasn't entirely out of step with contemporary thinking on the urban environment, which sought to make traffic more efficient. A year later, Athelstan Spilhaus proposed an experimental city in Minnesota that radically rethought housing, energy, and transit – the latter with electronically or mechanically automated tracks for automobile traffic. And at about the same time, William Alden worked on a similar form of traffic automation that would have combined trains and automobiles in another form of dual-mode transport.
However close the above to ideas came to realization, Lawson's Mini-Max apparently remained just ideas on paper. Unlike today, with the rise of automation, Ford wasn't ready to commit to transitioning from an automobile to a mobility company. And Lawson wouldn't be able to pursue his ideas for much longer; after a heart attack in 1969, he apparently retired from auto design.