6 ways the 1974 GTO broke new ground (for better or for worse)
The 1964 GTO enjoys legendary status, having been credited with kick-starting the muscle car era, and it remains a revered collectible. Conversely, the 1974 example has been viewed as the Goat that ended that same era, resulting in fewer fans and lower resale values. The Ventura's compact economy car status, its close kinship to Chevrolet's Nova, its smaller engine than found in previous GTOs, and the climate in which it was introduced are a few reasons that are typically cited.
To be fair, any car produced for 1974 faced difficult circumstances. Insurance companies had been cracking down on muscle cars for years, hiking rates and putting them financially out of reach of many potential buyers. Additionally, in a continuing effort to reduce pollution, federal emissions standards were becoming more stringent. Compression ratios started dropping in 1971 to burn cleaner low-lead and unleaded fuel but that also reduced power. Federal safety regulations were increasing occupant protection in a crash, but also added weight in many instances, further degrading performance and economy. The advancing bumper requirements also influenced styling.
Then a crippling energy crisis in the fall of 1973 sent fuel prices skyward and should have justified moving the GTO from the Colonnade A-body to the X-body, but some still felt that Pontiac's prized Goat shouldn't be based on an economy car. Nevertheless, the 1974 GTO attracted 7,058 buyers, considerably more than the 4,806 Colonnade GTOs sold for 1973 (thank you, Grand Am) and the 5,807 GTOs produced for 1972.
Interestingly, the 1974 "Factory Installed Options and Accessories" report from Pontiac actually lists the WW3 option (sales code 342) as "Mini G.T.O." Available on a Ventura or Ventura Custom, either in the coupe or hatchback body styles, the GTO option included a Pontiac 350 four-barrel engine, dual exhaust with chrome splitters, floor-shifted three-speed manual (automatic only in California), a functional Shaker hood scoop, blacked-out grilles with parking lamps, firm shocks, .812-inch front anti-roll bar, .562-inch rear anti-roll bar, 14 x 6 Rally II wheels without trim rings, E70 x 14 black-wall bias-ply tires, sport mirrors with the left-hand one remote controlled, and GTO identification.
A four-speed or three-speed automatic were optional, as were bucket seats, console, variable-ratio power steering, Safe-T-Track, Rally gauges, A/C, stripes, various sound systems, and much more.
Switching Pontiac's muscle car to the Ventura meant that it inherited X-body traits, some of which resulted in "first-ever" GTO attributes for its final year of production prior to the 2004-'06 run. Here are just a few.
Utility Upgrade
An A-body GTO hatchback had never been offered to the public but the X-cars got one in 1973. Consequently, the 1974 GTO could be had in that configuration as well. The hatch was comprised of an integrated deck lid/backlite that was held up by hydraulic struts when open, and its design differed from Venturas with a traditional deck lid and trunk (see photos). Under the hatch was a fully trimmed cargo area and fold-down rear seat.
Camping with a Goat
For 1974, camping in a GTO was facilitated by the availability of the hatchback, but Pontiac took an additional step by offering an extra-cost nylon tent that attached to the open hatch area of the car. It was advertised as tear-, flame-, water-, and mildew-proof.
Downsized Displacement
GTOs were powered by the 389 four-barrel and extra-cost Tri-Power V-8s from 1964 to 1966 (Ram Air Tri-Power late 1966). Then a 400 four-barrel became standard (1967-'73), and optional were the 400 H.O. (1967-'68), 400 Ram Air (1967-'68), Ram Air II (1968 1/2), and Ram Air III and IV (1969-'70). A 400 two-barrel was also offered (1967-'69), as were extra-cost 455 four-barrel engines (1970-'73) and the 455 H.O. (1971-'72).
For 1974, however, a Pontiac 350 (dimensionally the same outside as the 400 and 455), was the only choice. It featured a 3.8762-inch bore, two-bolt main, cast-iron block; 3.75-inch stroke cast crankshaft; cast rods and pistons; a 269/277-degrees advertised duration hydraulic cam with .377/.413 lift; iron cylinder heads with screw-in rocker studs and 1.96/1.66 valves; 1.5:1 ratio stamped-steel rocker arms; and a low 7.6:1 compression ratio.
A Quadrajet carburetor, cast-iron intake manifold with EGR, breaker-point distributor, and log-type exhaust manifolds were also included. California-bound GTOs received a 264/273-degree camshaft instead. Output was rated at 200-hp (net) at 4,400 rpm. It was 30-hp (again, net) less than the 1973 GTO's standard 400, but the '74 was a few hundred pounds lighter. Regardless, performance was tepid, likely due at least in part to the 3.08 rear gears.
Shakin' and Gulpin'
A Trans Am style Shaker scoop was new to the GTO for '74. Ironically, it was functional whereas those on 1973 and newer Trans Ams wasn't, reportedly due to drive-by noise requirements.
The GTO's system for opening the scoop's rear-mounted door (aka. air valve) differs in several aspects from the 1970-'72 T/As' functional Shaker scoop, so this overview is limited to the Goat's.
According to a "1974 X-Car GTO Hood Scoop Assembly Schematic" and an "Operation Systems Chart," with the ignition on, 12 volts were sent to a thermal feed switch on the passenger-side cylinder head (fused via the radio circuit) through a yellow wire. Once the coolant temperature reached 140 degrees, the switch closed and allowed power to continue through a yellow wire to the vacuum switch mounted in the scoop that also received a vacuum signal from the intake manifold via a hose. That switch would close only when the throttle was opened wide enough to drop the vacuum to 1.5-1.9 in.- Hg. Then an electric solenoid mounted in the scoop (grounded via a black wire to the coil) was activated by the current fed through a purple wire from the now-closed vacuum switch. The solenoid's plunger extended to open the door by overcoming the tension from the springs on the U-shaped bracket to which the plunger and the door were attached.
To ease Shaker removal and reinstallation, a vacuum port pass-through and an electrical connector for both the yellow vacuum switch wire and the black solenoid ground wire were mounted in the scoop housing. It also had a sheet metal spacer riveted to it to attain the proper height through the Ventura-based GTO hood. Additionally, the lower air cleaner assembly drew intake air in from the driver's side radiator support area through tubing and a wide snorkel.
From A- to X-Body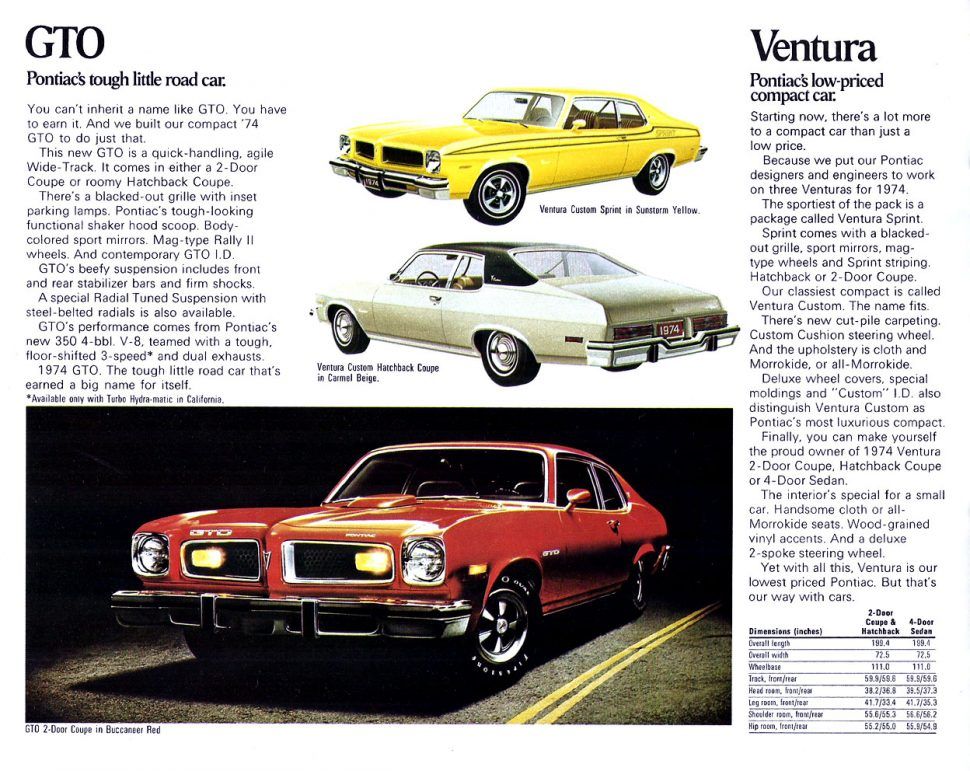 Since its 1964 inception, the GTO was a GM A-body with separate body/perimeter frame construction, but the Nova-based X-body design (which dated back to 1968) employed a unitized body shell with a bolt-on front sub-frame. The wheelbase of the X-cars and two-door A-cars only differed by an inch at 111- and 112 respectively but the 1974 GTO was 8 inches shorter at 199.4 and had 5.2 inches less width (72.5) than the 1973 Goat.
Underneath, the A-body used a short/long arm (SLA) front suspension and a four-link rear with coil springs and shocks at the four corners. The X-body had an SLA front suspension as well, but with different geometry from the A-Body. Also, the X-body steering box and linkage were mounted behind the centerline of the front spindles but the A-body components were placed ahead of it. The X-body rear employed multi-leaf springs instead of coils and the brakes were four-wheel drums with front discs optional in the '74, whereas the '73 GTO had standard front discs.
Radial Tweaked Sensibilities
Radial Tuned Suspension (RTS) was new to the Ventura for 1974. It optimized the spring rates and shock valving for the operational characteristics of the extra-cost steel-belted radial FR78 x 14 tires—either raised white letter or whitewall—it came with. Only 4,373 Venturas and GTOs were equipped with the package that year.