Honda's Motocompo scooter: the box that thought outside the box
By Honda's original sales projections of 10,000 units per month, its three-year experiment building the Japanese-market Motocompo scooter was an abject failure. Just under 53,400 of the plastic-bodied urban commuters were assembled from 1981 to '83, but today, that rarity has made the Motocompo, also known as the NCZ50, a sought-after and collectible bit of '80s Japanese design eccentricity.
To understand Honda's design logic, one must look at a bigger picture. The Motocompo wasn't really intended to be a stand-alone scooter, but instead was designed to fit in the trunk space of the automaker's new-for-1981 City hatchback, once the footpegs, handlebars, and seat were folded in. In fact, the first generation of the Honda City had a well at the rear of the hatch designed specifically for the Motocompo, which was intended to ease the burden of the daily intraurban commute. With traffic in larger Japanese cities bad and getting worse, City owners who purchased the Motocompo could park farther out (saving time and money), then commute to their ultimate destination via scooter.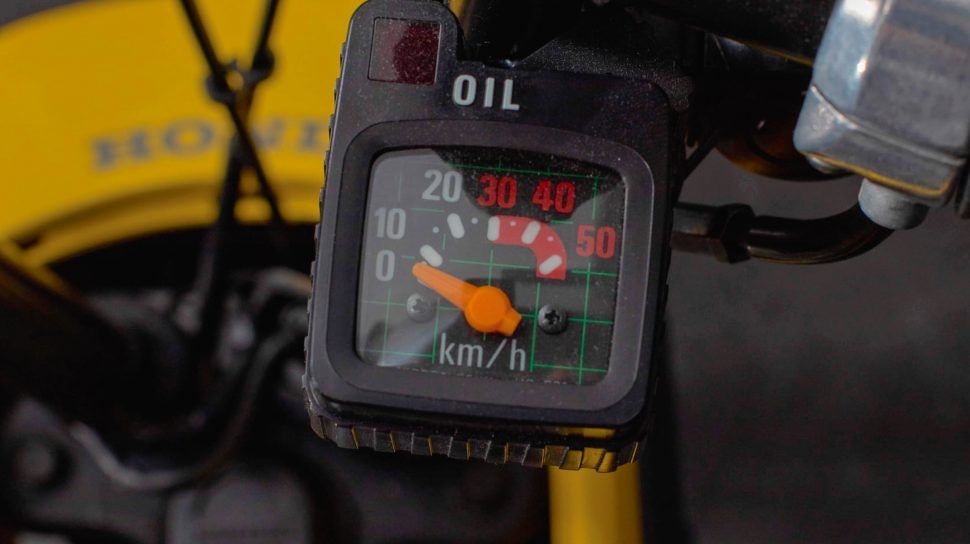 It would have been a leisurely commute, though. Powered by an AB12E single-cylinder, air-cooled 49cc two-stroke engine, shared with other Honda products, the Motocompo made a sedate 2.5 horsepower and 2.75 lb-ft of torque. Instrumentation consisted of an oil level warning light (a separate oil tank eliminated the need for premix), and a speedometer labeled to 50 km/h (31 mph). Attaining such a high velocity was unlikely sans a downhill run, a stiff breeze, and a large sail, as the scooter's top sustained speed was closer to 30 km/h, or 18.6 mph.
No electric start was offered, but an automatic clutch and single-speed transmission kept things manageable for novice riders, as did the sub-100-pound curb weight. Fuel economy was stellar, and Honda's claim of 70 km/l delivered a theoretical range of roughly 95 miles on a full tank. Buyers could choose between yellow, white or red bodywork (all complete with video-game graphics), and even the price was right: Honda advertised the Motocompo at 80,000 yen, then the equivalent of roughly $340 (or about $900 today).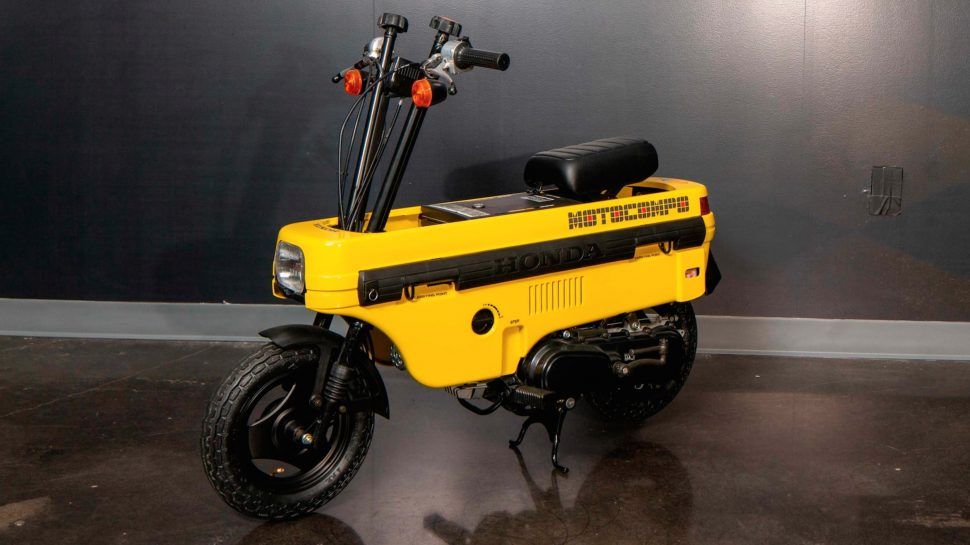 Perhaps it was the lawn-care-appliance styling (in Honda's defense, necessary to keep the NCZ50 as compact as possible), or the realities of having to lift a 100-pound scooter, hot and covered with road grime and two-stroke film, into the trunk well of a car dressed in work finery. Though Honda's sales projections for the City hatchback were more modest at 8,000 units per month, these were met and exceeded, while the Motocompo lagged behind estimates. Even then-popular British pop/ska band Madness, recruited to help market the scooter via television advertising, failed to drive demand among style-conscious and frugal Japanese consumers.
Though never officially imported into the United States, the Motocompo has developed a cult following on these shores, and may be the ideal pit bike for an event like Radwood. Prices have skyrocketed in recent years, with clean examples typically trading hands in the $3,500 range, with exceptional ones selling for considerably more. At Mecum's 2018 Las Vegas Motorcycle sale, a zero-mile Motocompo sold for a jaw-dropping hammer price of $10,000, likely a record for the model at auction.
Want one of your own? Three will be crossing the auction stage at Mecum's 2020 Las Vegas Motorcycle sale, including a white '81, a yellow '82, and a red '84. The auction will take place on January 21-26, 2020, at the South Point Hotel & Casino. For more information, visit Mecum.com.