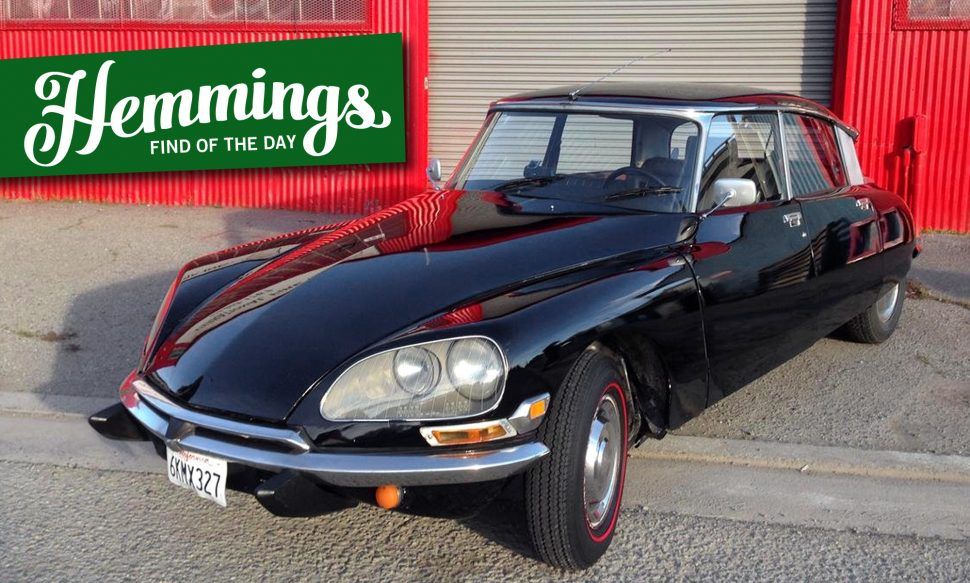 Hemmings Find of the Day: 1972 Citroen DS21
1972 Citroen DS21 for sale on Hemmings.com. From the seller's description:
Yes, I love my Citroen and you will too. The main reason I am selling is that my left arthritic ankle does not like the clutch action. In San Francisco there are lots of hills. The car runs great and always turns heads. To learn about these special DS Citroens see Jay Leno Garage You tube of 1971DS Citroen in action at: https://www.google.com/search?q=jay+leno%27s+garage+1971+citroen+ds
This 1972 Citroën D Spécial is powered by a 2,175cc inline-four paired with a 5-speed manual transmission. It is equipped with a replacement black vinyl interior from a 1969 Citroën ID, along with an aftermarket Pioneer stereo. Work performed during the seller's ownership included a repaint in black, the addition of external mirrors, a reseal of the roof, adjustment of the spark plugs and idle, and the installation of a new ignition coil. This D Spécial was purchased by the seller 12 years ago from a private party and is now offered with spare parts, multiple keys, some service records, factory literature, a European license plate, a jack and spare tire, and a clean California title in the seller's name.
The car was originally finished in Oiental Blue (AC 616) and is currently finished in black, with the most recent repaint occurring in 2006. The passenger-side front fender and trunk lid are both from a 1969 Citroën ID, and corrosion is noted around the trunk. 15″ steel wheels with polished hubcaps and Coker Classic tires. A receiver hitch is equipped out back.
The factory 1.9-liter engine has been replaced by a carbureted 2,175cc inline-four paired with a 5-speed manual transmission- a dream to drive.
Some of the factory interior has been replaced with equipment from a 1969 Citroën ID19, including front and rear black vinyl bench seats with headrests and armrests as well as tobacco and black door panels. I call this car excellent as there are few blemishes and it is working all around except for the clock. Repaired minor cracks are noted in the passenger seat, as are freckles in the grey headliner. All door knobs work, no locks on factory back doors, but two front doors lock with key, all show some age. The radiator cover zipper is in need of repair. Turquoise blue carpets are fitted front and rear and in very good condition.
This D Spécial retains its single-spoke steering wheel. The 5-digit odometer shows 20+K miles, nearly all of which were added by the seller. Total mileage is unknown. The horn works as do all night lighting, including the European turning lights.
If you have never driven a Citroen you will discover and appreciate the unusual comfort, design, engineering and head-turning driver experience. If you have, you know what I am talking about. It takes a driver/owner who appreciates it.
Price
$19,999
Location
San Francisco, California
Availability
Find more Citroens for sale on Hemmings.com.